Early reviews of Hulu Plus weren't too favorable, with most folks coming to the conclusion that Netflix was a better deal. The newer service has cut its price and improved its content selection, however, and as a result, apparently caught on to the point that it helped Hulu earn an unanticipated $20 million.
Here's what happened: last month at the NewTeeVee Live conference, Hulu CEO Jason Kilar predicted that his company would take in $240 million this year. Then yesterday, during a CNBC interview, he mentioned the number $260 million. And Kilar won't admit to misspeaking either time.
Instead, he told Dan Frommer this morning that demand for Hulu Plus and Hulu's ads have "been larger than we anticipated/projected back in early November."
So some impressive growth must have taken place in the space of one month.
On a related subject, Hulu's now trying to sell even more Hulu Plus subscriptions. On the Hulu Blog, a post appeared late yesterday suggesting that people give them as gifts, noting, "These gift subscriptions can be sent instantly via email (a bonus for you last-minute shoppers) or printed and tucked into a card if you prefer."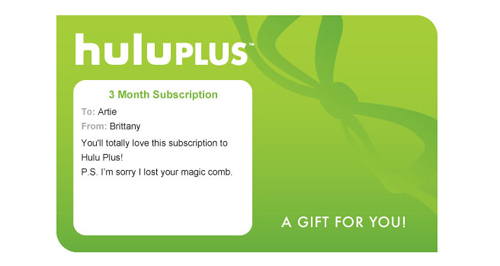 Keep an eye out for Kilar's next interview in case the holiday push adds another $20 million or so onto Hulu's revenue figures.