Different opinions exist regarding whether or not Vevo will ever be a big success; on the one hand, it doesn't offer anything that other video sites don't. On the other, well, music labels' lawyers may work to ensure it's something special. But either way, Vevo owes YouTube its life at this early stage.
Right from the start, everyone understood that YouTube would try to send all music video watchers to Vevo, of course. Still, the stats are somewhat astonishing. For the week ending January 2nd, Hitwise's Heather Dougherty found that YouTube accounted for about 80.64 percent of Vevo's traffic.
Google, Facebook, and MySpace then played supporting roles (3.44 percent, 2.43 percent, and 1.80 percent, respectively).
This raises a couple of questions: will Vevo be able to get away from using YouTube as its primary source of traffic? And does it even need to? Plenty of sites do fine with just a fraction of the visitors YouTube sees.
Here's one more troubling detail, though: as you can see from the graph below, Hitwise has already recorded a drop in Vevo's market share.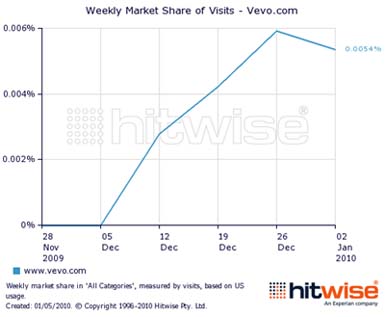 We'll try to see where Vevo stands when it's had a full six or twelve months to establish a following.
Related Articles:
> Vevo Reaches Content Agreement With EMI
> Vevo Gets Official Launch Date