U.S. consumer spending on daily deal sites like Groupon and LivingSocial is on track to grow from $873 million in 2010 to $3.9 billion in 2015, representing a 35 percent growth rate, according to a new report from BIA/Kelsey.
BIA/Kelsey indicates a number of variables will have an impact on the development of deal a day, such as growth in the number of cities/sites, registered users, transactions per year for the average user and the average price per transaction. Including those variables, deal a day could grow as much as $6.1 billion by 2015, while a conservative estimate is $2.1 billion.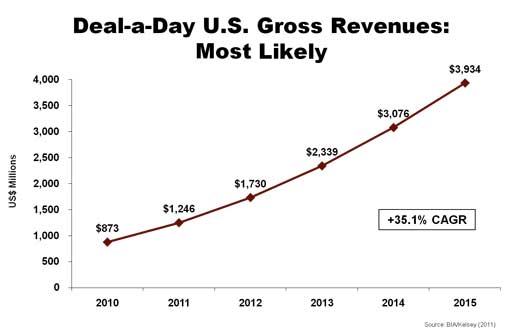 "Deal a day has experienced incredible growth during its three-year incubation period beginning in 2008," said Mark Fratrik, vice president, BIA/Kelsey.
"We expect this to continue as companies in the space are rapidly adding markets and increasing total user count. They are also subdividing existing metros to provide deals closer to where users live, which we believe will help offset any drop-off that may occur due to consumer fatigue as the novelty of the form fades."
While Groupon and LivingSocial are tops in a marketplace of more than 200 similar services, the broader area includes sites working with local media providers such as directory companies, newspapers and radio and television stations. BIA/Kelsey estimates there are 178 cities with deal-a-day sites reaching 102 million people in the United States.
"The combination of fun offers and convenience makes deal a day a very attractive way to reach local users, and for publishers to work with small businesses," said Peter Krasilovsky, vice president and program director, Marketplaces, BIA/Kelsey.
"We expect to see some shift in local media spending resulting from the adoption of deal a day by local advertisers. We also believe that deal a day doesn't exist in a vacuum. It will become a part of the growing deals and offers landscape."