Groupon has officially launched in Australia, under the brand Stardeals. Why not Groupon? Because A company previously known as "Scoopon" has the rights to that name in Australia at the moment.
Last month, Groupon CEO Andrew Mason explained the situation in a blog post. Groupon is suing Scoopon, which is now running as "Groupon Pty Limited". At the time, Mason wrote:
The worldwide proliferation of Groupon clones has been well documented (of course, none being more sinister than Nopuorg). One particular clone in Australia called Scoopon, created by the brothers Gabby and Hezi Leibovitch, has been making life difficult for us. Scoopon went a little further than just starting their Groupon clone – they actually purchased the Groupon.com.au domain name, took the company name Groupon Pty Limited, and tried to register the Groupon trademark (filing for the trademark just seven days before us) in Australia.
The way we see things, this is a classic case of domain squatting – an unfortunate reality of the Internet business. As Groupon became internationally known, opportunistic domain squatters around the world started to buy local Groupon domain names, thinking that we'd eventually be forced to buy them at an insane price. In fact, we tried to do just that, reluctantly offering Gabby and Hezi Leibovich about $286,000 for the Groupon.com.au domain and trademark—an offer they accepted. But now they've changed their minds, and we believe that they'll only sell us the domain and trademark if we're willing to buy the entire Scoopon business from them. Left with no other options, we've filed a lawsuit against Scoopon, claiming that their Groupon trademark was filed in bad faith (amongst other things).

He also said that the suit could take over a year to be resolved, but clearly, they didn't want to wait that long to launch in the Australian market.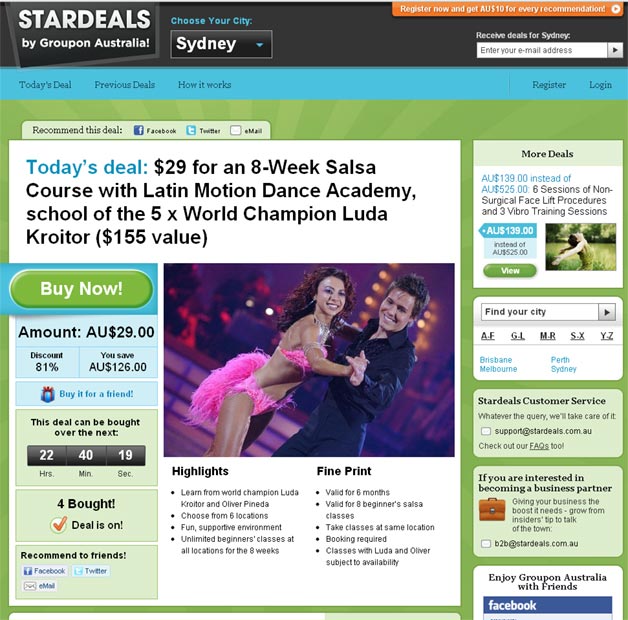 Stardeals can be accessed at Stardeals.com.au. Notice that it still says "by Groupon Australia".
"We're thrilled to introduce our network of 60 million subscribers to the world-class merchants of Australia," said Groupon President and COO Rob Solomon. "Stardeals will change the face of local collective buying, leveraging the best practices Groupon has pioneered in more than 40 countries around the globe."
Groupon says its network serves nearly 60,000 merchants in more than 500 markets and 42 countries. In Stardeals' first week, it will feature deals for surfing lessons, dance classes and upscale spa treatments, currently serving Melbourne and Sydney with plans to expand to eight more territories in the coming months.