Google has introduced some new features for its recently launched Place Pages for local businesses. Most notably, businesses can now instantly (close anyway) post data to their Place Pages from Google's Local Business Center dashboard. If you log in, you can post updates, coupons, announcements, etc. that will go live in minutes.
It isn't hard to see why this could be a useful tool for businesses who are running time-sensitive promotions, and want anybody using Google to find a local service in that area to see them.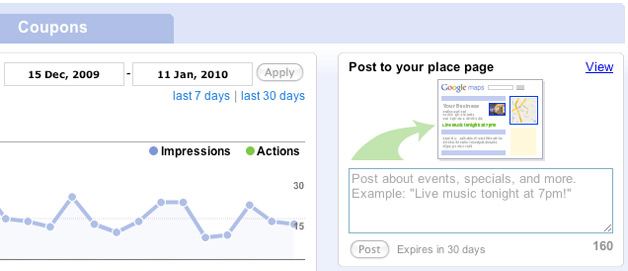 In addition, Google is introducing a badge for listings that have been claimed in the Local Business Center. "This helps our users identify listings that have been updated and improved by their business owners, helping them to trust that the information about your business is as accurate as possible. We are also making it even easier to claim your listing directly from the Place Page by following the 'Business owner?' link," says Google.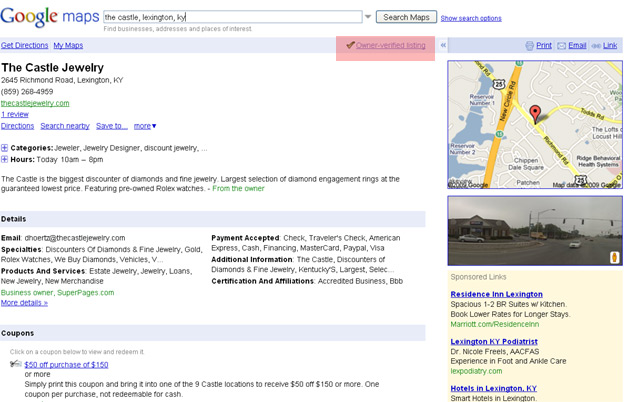 The badges have actually been out there for a while, but not formally launched (and perhaps not available to everybody).
"We're excited about how Place Pages can help business owners connect with the large number of new and existing customers who visit these pages each day. These users come to Place Pages to easily find basic information, photos, and reviews about your business, as well as a map, Street View photos, and nearby transit information to help them get to your doorstep."
Local search and Place Pages appear to be an increasingly growing part of Google's focus. The Favorite Places program and "Near Me Now' feature are more evidence of that.
Related Articles:
> Google Adds Place Pages to Google Earth
> Critical Local Search Factors To Pay Attention To
> Will Google Eliminate the Need for Small Business Websites?