The people behind sites like Realtor.com, Redfin, and Trulia can breathe a sigh of relief and perhaps throw a party. They seem to have defeated Google, which announced this afternoon that it's retiring the real estate feature within Google Maps.
Google Maps first began to offer a real estate search feature in mid-2008. The feature was later upgraded several times and introduced in Australia, Japan, New Zealand, and the UK, signaling that Google was serious about helping people find homes (and exploring another revenue stream).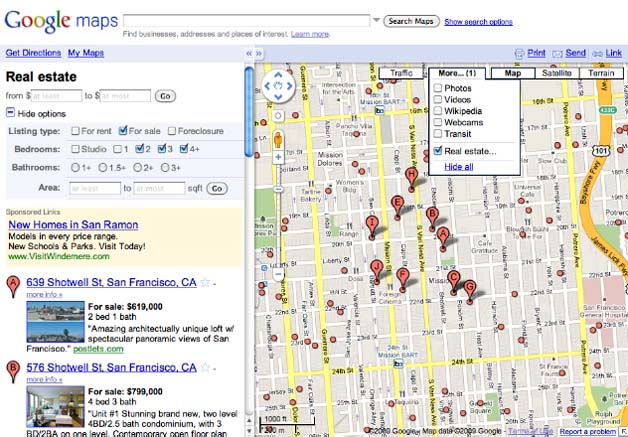 Google had a leg up on many real estate sites in terms of visibility, too, considering that lots of people already used the company's search engine and Gmail.
But Brian McClendon, VP of Google Earth and Maps, wrote today on the LatLong Blog, "In part due to low usage, the proliferation of excellent property-search tools on real estate websites, and the infrastructure challenge posed by the impending retirement of the Google Base API (used by listing providers to submit listings), we've decided to discontinue the real estate feature within Google Maps on February 10, 2011."
In terms of providing advance notice, that represents a pretty hasty retreat.
At this time, Google hasn't announced any new moves in the field, either, hinting that it could be quite a while (or never) before it comes up with a better idea and tries again.