Google is launching the Google Voice app for both the iPhone and Palm WebOS. It is an HTML5 app, which the company says provides users with a "fast and versatile" mobile experience, because of its use of the latest advancements in web technologies.
"For example, AppCache lets you interact with web apps without a network connection and local databases allow you to store data locally on the device, so you don't lose data even when you close the browser," explains Google in a post to its Mobile blog.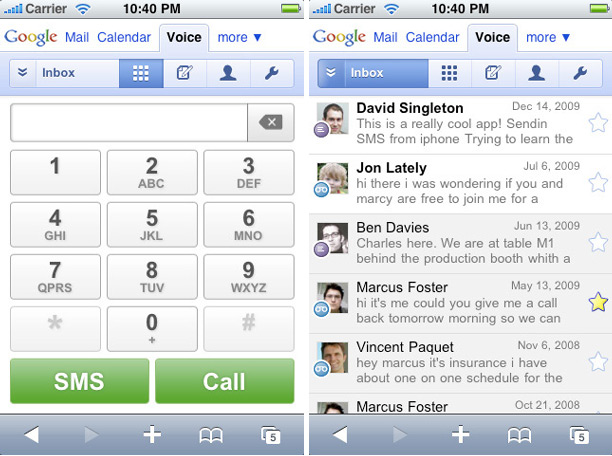 "For quick access to the most important features like 'Dialer', 'Compose SMS', 'Inbox' or 'Contacts,' you can add shortcuts to your iPhone home screen or Palm Launcher — so cheap calls and messaging will be just a single click away. And because the Google Voice web app uses advanced features of modern HTML5 browsers, it offers native app-like performance and speed," Google adds.
Users can not only access a streamlined version of their Google Voice inbox, but with the new app, they can display their Google Voice number as the outbound caller ID, so return calls come back to that number. It can also be used to send and receive text messages for free, and place international calls at Google Voice's rates.
Users have to have a Google Voice account and a voice plan on their phones to place calls with the app. At this point, accounts are still available only on an invitation basis, although invites can be requested.

Related Articles:
> Google Voice Gets New Free VoIP Service
> Report Indicates Google Bought Gizmo5