Back in March, Google launched a Google Labs experiment called Public Data Explorer. In the time since its launch, the company has used it to visualize data from the Census Bureau, Energy Information Administration, Bureau of Labor Statistics, and Bureau of Economic Analysis.
Now, Google has utilized the tool to show data from the Office of Management and Budget (OMB). With the data, Google can show things like historical and projected money spent for the federal government – obviously a hot button issues these days.
"As always, there are a number of caveats to this data, and we encourage folks to follow up with experts to better understand what it truly means," John Lyman of Google's Public Data Partnerships arm warns. "That said, like all of our public data visualizations, we hope these simple charts will help inform the public debate and illuminate trends and key insights."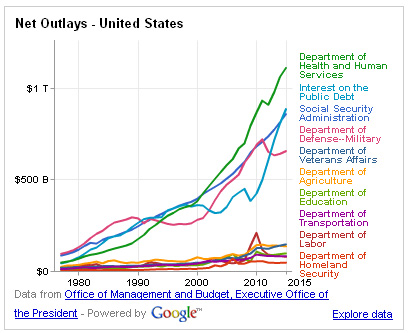 "Note the line for 'interest on national debt,' which will outpace the Social Security Administration and Department of Defense by 2015," Lyman points out.
The entire list of datasets the tool is able to access is as follows:
Google uses public stat charts in search results sometimes. "This Labs feature uses the same line chart visualization," the company says on a FAQ page. "We are planning to make more data searchable and will continue to improve the public data search feature."
The company also says that while the data from the tool cannot be downloaded, they're investigating features to enable users to export the data.