Google Ventures and Khosla Ventures have invested $42 million in a weather insurance start-up founded by former Google employees, called WeathrBill.
WeatherBill's technology platform compiles large amounts of weather data from a variety of sources, then sells insurance based on statistical analysis.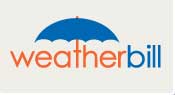 "Google Ventures' mission is to identify and fund big ideas – and WeatherBill's vision of helping farmers adapt to climate change aligns perfectly with that mission," said Bill Maris, managing partner of Google Ventures.
"WeatherBill's founders, CEO, David Friedberg, and CTO, Siraj Khaliq, are ex-Googlers, so it's understandable that they are working on turning the big problem of climate change into a big opportunity. Google Ventures is excited to support the WeatherBill team as they take on big data challenges and create products to protect a foundational global industry: agriculture."
In 2010 WeatherBill launched its Total Weather Insurance product, which pays customers automatically based on weather conditions, eliminating the claims process. WeatherBill said it will use the funding to expand its team of software engineers, mathematicians, climatological agronomists and product managers to build out its platform globally.