AdWords advertisers who prefer not to go with the "guess and check" method when trying to attract customers are in luck. This afternoon, Google announced some improvements to its Ad Preview Tool, allowing users to get a good idea of how their ads will appear without wasting any time or money.
Gordon Zhu, an associate product marketing manager, wrote on the Inside AdWords blog, "If you're signed into your account while previewing your ads, you'll now see integrated keyword diagnosis results. In this example below, we've entered our keyword red roses to see if it's triggering ads in New York:"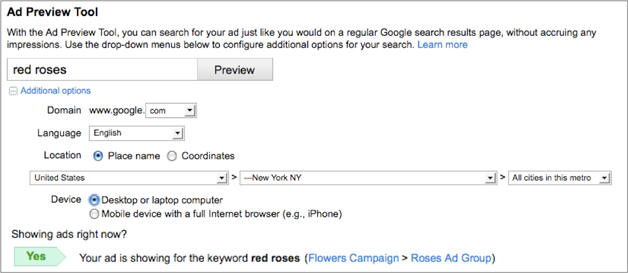 Zhu then continued, "[T]he Preview Tool now specifically confirms whether your ad is showing and links to the relevant campaign and ad group. If your ad isn't showing, the Preview Tool will tell you why, helping you understand if you need to adjust your bids, location targeting, daily budget, or optimize your account."
And as you may have noticed from the screenshot, it's now possible to check the results for specific mobile devices, along with different mobile carriers.
These tweaks are sure to come in handy, and could indeed prove quite valuable to marketers. Google, in turn, probably hopes the marketers will then be more inclined to pay it more money.