People who visit Google UK, type "meet Android," and click the "I'm feeling lucky" button are in for a treat. At the time of writing, at least, Google's showing an advertisement for Android and the Nexus One in response, and it goes a bit beyond some boring paragraph of text or a single pic.
(Spoiler alert – stop reading now if you want to watch the ad on your own before encountering a summary of it.)
There's instead a fun-to-watch sequence featuring the (mean?) green Android mascot demolishing a page of search results. Behind the page is then MeetAndroid.co.uk, which promotes a certain mobile operating system, the Nexus One, and Vodafone.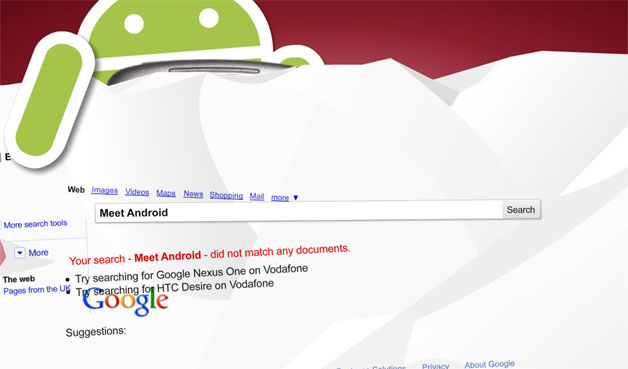 This is a clever bit of marketing that may prove effective. If Google had stuck any sort of promotional material on its homepage, it would risk complaints about nepotism and clutter. But this way, it's made an ad that many people will actually seek out.
Compared to utilizing print ads, a TV commercial, or even a made-for-YouTube clip featuring live actors, this method of advertising should prove pretty inexpensive, too.
Anyway, hat tips go to Chris Davies and Andrew Lim, and if you know of any folks who might want to see this ad, let them know about it sooner rather than later, since there's no telling how long the Easter egg will remain in place.