Google I/O, the company's annual developer conference starts this week, and all eyes will be upon Google, just as they have been on Facebook since its developer conference.
Watch for exclusive, live video interviews from Google I/O this week at live.dev.webpronews.com.
Google has so many products, APIs, and relationships with a seemingly infinite number of third-parties, that there is bound to be a plethora of interesting news and general information coming out of San Francisco this week. What's going on with Google Wave? Chrome OS? Android?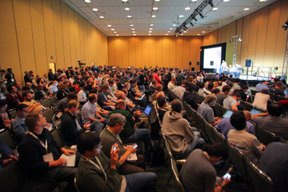 Leading up to the event, it is Android that appears to be capturing the most attention, as the main weapon in Google's arsenal in its increasingly competitive battle with Apple. Apple and Adobe are of course also involved in something of a tiff, and this Adobe's relationship with Google and Android will no doubt be discussed a great deal as well.
The Financial Times reports that Google is expected to call upon the developer community at I/O to create apps for Android-based TVs. Google and Intel are expected to launch a "Smart TV" platform. The latest version of Android, Froyo, is also expected to be heavily showcased.
Google has session tracks scheduled for Android, App Engine, Chrome, Enterprise, Geo, Google APIs, GWT, Social Web, and Wave, as well as tech talks and fireside chats. Specific sessions will also deal with things like Google Buzz, Google Powermeter, Google Maps, SEO, iGoogle, YouTube, OpenSocial, Chrome, OpenID, Google Analytics, and much more.
WebProNews will be attending Google I/O, which takes place on Wednesday 05/19 and Thursday 05/20. In addition to articles, watch for exclusive, live video interviews at live.dev.webpronews.com.