Google launched a new version of the Google Toolbar for Internet Explorer. Google Toolbar 7 brings Google Instant and some new personalization features to the table.
"If you've used Instant on google.com or in Chrome, you'll be right at home with Toolbar Instant," says Google's Allen Huang, Associate Product Manager on the Toolbar. "Just start typing in the search box and search predictions and results will appear instantly as you type, getting you the results you want faster."
As a Chrome user, I can honestly say that I can hardly remember what it was like before Google Instant from the browser, even though it's not been available for that long. Most people seem to like it.
"This new version of Toolbar is simpler, cleaner and emphasizes what's important to you. The tools that you use most will remain visible on the toolbar, while buttons that you haven't used recently will be moved to the new 'More' button," says Huang. "s you discover and use particular tools that help your browsing experience, like Share or Translate, they'll automatically appear on the toolbar, making your most relevant tools easy to access. This personalization is stored only on your computer, so no information is sent to Google unless your usage statistics are enabled."
The toolbar also comes with new privacy settings accessible from a single menu, where you can adjust your preferences for things like PageRank, spell check, and SideWiki.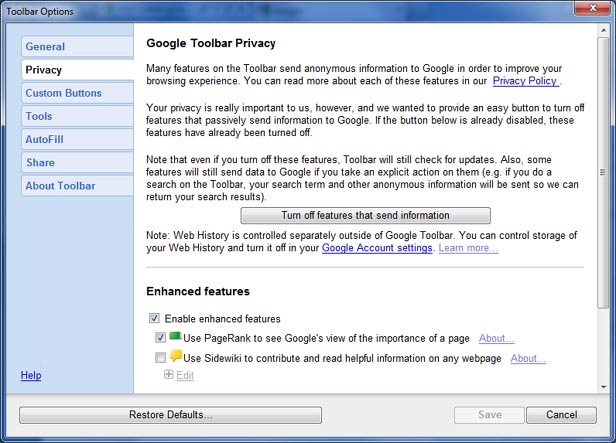 The toolbar is available in English only, but will be available in other languages in the future. Current Toolbar users will be automatically upgraded over the coming weeks.