Google is offering suggestions for "nearby places you might like" on Google Maps when you look up a place that you do like. So if you like a particular bakery, you might be presented with other places within the same vicinity that Google thinks you might also be interested in trying.
"When you live in New York City, everyone has an opinion on where to eat," says Tammy Stern of the Google Maps team. "And usually, telling someone a place you love will lead to a long conversation of a string of other places you should try. For example, one of the more interesting restaurants I've eaten at in NYC was recommended to me by someone who knew I loved a different restaurant by the same owner. And, when I told a friend I was heading to the Lower East Side to get some yummy knishes for lunch, he told me to make sure I checked out the famous Guss' Pickles right around the corner and that I might consider picking up some smoked fish at Russ & Daughters down the street."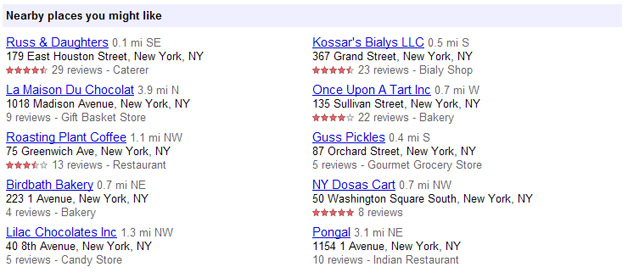 "You'll notice that we do not limit these suggestions to places sharing any specific characteristic; instead, we use a broad set of signals to come up with what are hopefully the most interesting suggestions," says Stern. "We're still working on refining these signals, so bear with us if your serendipitous discovery of a new place is even more unexpected than you'd anticipated."
This feature could have both positive and negative effects on local businesses. On the one hand, it could give established customers ideas to go to your competitors. On the other hand, you could be the competitor and benefit from that.
The suggestions are just the latest feature in a recent slew of local business-related features from Google. The company is clearly focusing a great deal on this aspect of search.

Related Articles:
> Businesses Benefit as Customers Share Current Locations
> Google Makes it Harder to Hide from a Bad Reputation