Any of Google's investors who feel that the company has some explaining to do need only wait another nine days. Google's announced that it will report its second quarter financial results on Wednesday, July 15th.
Things could get ugly for a couple of reasons. As the graph below shows, Google's stock hasn't done at all well since March 31st, which is the last day covered by its previous report. And in fact, the graph would look even worse if we'd messied it with lines representing Microsoft and Yahoo, because their stocks lost just 20.60 percent and 14.88 percent, respectively, in the same period.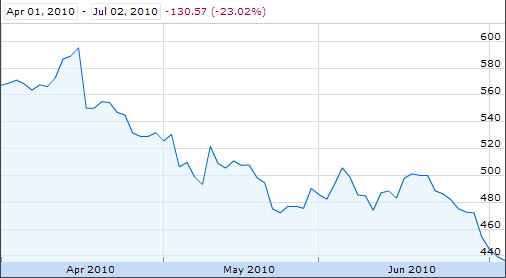 Then it's necessary to consider that Google's relationship with China appears to be deteriorating (again), jeopardizing tens or hundreds of millions of dollars in future revenue.
On the bright side, Google's maintained its dominance in the search market, and Android continues to make inroads against the iPhone. Google TV and Google Music have people excited and don't appear to be far off, either.
Also, to be quite simplistic about this, Google just has a habit of presenting impressive numbers during its earnings reports, regardless of how bad things look.
Anyway, if you're interested in learning about the financial results in real time, Google's conference call is supposed to occur at 4:30 PM New York time (so as not to mess with the stock market) and will be accessible here.