According to unnamed sources cited by the Wall Street Journal and the New York Times, Google plans to launch a store where it will sell online business software for use with its own Google Apps products. The Times cites "a person familiar with the project" and the Journal cites "people briefed by the company."
"These people said the store will sell business software designed by outside developers to integrate and add capabilities to Google Apps, such as enhanced security features or the ability to import contacts," the WSJ reports, later adding, "Google eventually plans to allow customers to purchase its partners' software through the site, taking a cut for itself and sharing some revenue with the developers, these people said. Google will allow users to quickly access their purchased applications through the menu at the top of their screens within Gmail or Google Docs, they said."
Both publications refer to a statement from Google in which the company said, "The Google Solutions Marketplace makes it easy for our customers to connect with an ecosystem of products and professional services. We're constantly working with our partners to deliver more solutions to businesses, but we have nothing to announce at this time."
The Google Solutions Marketplace is described by the company as a place that links customers to vendors whose solutions integrate and extend Google's communication, collaboration, and enterprise search products.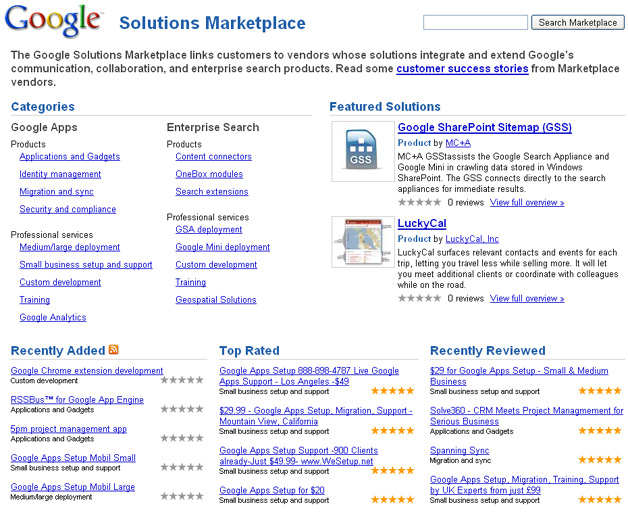 The rumored product would presumably be separate from this, operating as a standalone store for consumers and businesses to purchase apps that meet their needs, not unlike they can do with Apple's app store or Google's own Android Market.
If the rumor turns out to be true, it could mean some very interesting things for Google Apps and the businesses that use them. It could also give Google more of an edge in the competition for office software dominance.
Related Articles:
> Google Apps Goes Live In L.A.
> Google Apps Gets Google Groups
> L.A. Approves $7.25 Million Google Apps Contract