The iPad's become almost inescapable – really, it's hard to imagine that anyone with a TV or Internet connection hasn't heard of the device by now – and to those people who actually buy one, Google would like to be similarly omnipresent. The search giant discussed five iPad-specific tweaks and apps this afternoon.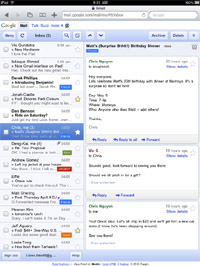 Let's start by talking about Gmail, since what Google's cooked up in this respect represents the biggest deviation from the norm. It seems that, when iPad users visit Gmail.com, they'll see something a little special.
A post on the Official Google Mobile Blog announced, "We're releasing an experimental user interface for the iPad built on the Gmail for mobile HTML5 web app that we launched last year . . . . To take advantage of the iPad's large display, we've created a two-pane view with your list of conversations on the left and messages to the right."
Then, well, there's everything else. Google Search and a YouTube app come preinstalled on the iPad. A Maps app is available, too, and the Google Mobile App with search by voice is at the ready in the App Store.
Earlier today, we suggested that Yahoo will be hoping the iPad's a success. Now it's fairly certain that Google will have a cheering section at work, too.