As you know, Google has rolled out the Panda update internationally in the English language. SearchMetrics has put out a list of the top victims in the UK. We'll be exploring more of this in time, but one thing that realy sticks out in this report is the presence of eHow on the list.
Demand Media's eHow, a site often referred to as a content farm, was expected to be one of the main targets of the initial U.S. Panda update by many people, after Google announced it would be making algorithmic adjustments to go after content farms. eHow, while not considered a content farm by Demand Media, is usually one of the first sites mentioned when the topic comes up in discussion on the web.
eHow actually managed to gain traffic after the update, which left a lot of people very surprised. Now that Google has rolled out the algorithm update internationally, and made more adjustments to the U.S. version, it would appear eHow wasn't so lucky this time.
According to the SearchMetrics data, eHow.co.uk took a 72,30% hit in visibility. eHow.com took a 53,46% hit. Keep in mind this is UK data, but it has also affected U.S. sites.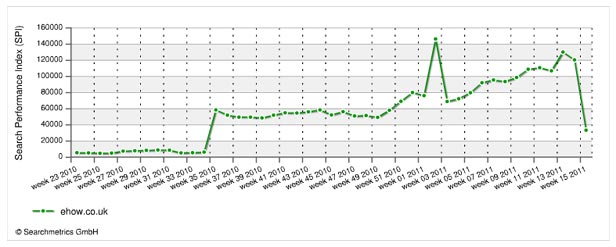 Also keep in mind that Google did make some tweaks in the U.S. "In some high-confidence situations, we are beginning to incorporate data about the sites that users block into our algorithms," said Google's Amit Singhal. "In addition, this change also goes deeper into the 'long tail' of low-quality websites to return higher-quality results where the algorithm might not have been able to make an assessment before. The impact of these new signals is smaller in scope than the original change: about 2% of U.S. queries are affected by a reasonable amount, compared with almost 12% of U.S. queries for the original change."
They're using the domain blocking data in search rankings. Now, if eHow is the most commonly referenced site when people talk about content farms, it stands to reason that it is probably one of the most blocked domains too. Google says it only uses this in "high-confidence situations" (whatever that means). I take this to mean situations where they're confident it's not just people abusing the feature for competitive purposes.
We don't have the hard data about eHow's performance in U.S. Google, but searching for some queries we've looked at in the past, it does look like eHow has taken some kind of hit – at least on some content. For example, the "level 4 brain cancer" result we've referenced in several articles has moved down. Granted, it's still the second result, and with another ehow article ranking directly below it at number 3, but it's not the top result anymore. Now the top result is from the MGH Brain Tumor Center. Clearly something's happened.
I'm still waiting to receive comment from Demand Media about the impact of the Google's update.
Demand Media has been putting a great deal of emphasis on an increase in quality at eHow. This has been going on since before the Panda update ever hit. Recently, they launched a new redesign and a user feedback feature aimed at sending questionable content back through the editorial process or to the cutting room floor.
Demand Media also been making partnerships aimed at boosting credibility and engagement (Rachael Ray, Tyra Banks, Getty Images, Buddy Media), and making significant acquisitions (CoverItLive).
The company has also acknowledged that there is some older content out there that isn't necessarily up to their current standards, and they've been working to improve that as well.
Whether the content quality level at eHow is improved with the newer content is a matter of opinion, but there's no question that they're spending a lot of money on boosting perception.