Google has a new project in the works that appears to be a direct competitor to Groupon. It's called Google Offers. According to an official fact sheet about the product, obtained by Mashable, Google Offers is "a new product to help potential customers and clientele find great deals in their area through a daily email."
Should Groupon have sold to Google when it had the chance? Share your thoughts.
This sounds exactly like Groupon, and based on the screenshot embedded in the document (view the whole thing here), it looks quite similar too.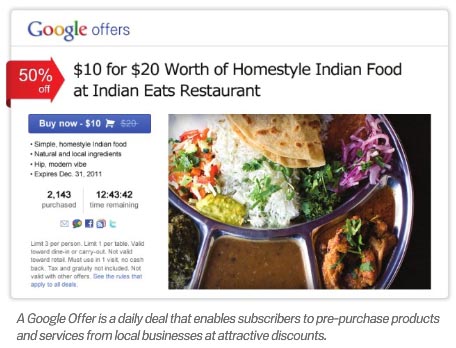 "For businesses, it's a smart and easy way to find new high -value customers and bring them right to you," the sheet says. "With our prepaid model, there are no out-of-pocket expenses to spread the word about your business to the millions of Google users and subscribers in your local area. You only pay when a customer buys your offer."
Benefits mentioned in the document include: getting in front of potential customers in your city, bringing in both new and valuable customers with great deals, exposure across Google ad networks at no additional cost, managing your offer with tools to track and measure ROI, and getting paid quickly with no out-of-pocket expenses.
It then proceeds to outline a five-step process for businesses to create an offer, market it, run the offer, collect the money, and serve customers.
Now, the product is not widely available yet, but the company has confirmed that it is in fact real. Google gave Search Engine Land the following statement:
Google is communicating with small businesses to enlist their support and participation in a test of a pre-paid offers/vouchers program. This initiative is part of an ongoing effort at Google to make new products, such as the recent Offer Ads beta, that connect businesses with customers in new ways. We do not have more details to share at this time, but will keep you posted.
So, the keyword there is "test", but it's hard to imagine this not turning into a full-fledged offering, considering the company's obvious thirst for jumping into this space. As you probably know, Google recently offered a reported $6 billion to acquire Groupon, the leader in the deals space, but Groupon turned it down, and is reportedly preparing for a $15 billion IPO.
The question is: was Groupon smart to turn down Google's offer? All valuations are based on growth, and a lot can happen in a year – especially a year when Google is one of your main competitors. And Google already has a lot of relationships with businesses and users (through various products, search, business listings, advertising, etc.) that Groupon is still working on building.
During Google's earnings call, in which the company discussed the new changes in management, co-founder Sergey Brin alluded to some new products that are coming, but would not get specific. We wonder if this is one he was referring to.
Google's former VP of Search Products and User Experience, Marissa Mayer, who recently shifted to Google's products and services related to local markets and geolocation, pointed out recently that Google already has Groupon-like products.
"I think that when you look at our overall suite of services, especially around our advertising, we already have some things that are like this," Mayer said in an interview with Media Beat (embedded below). "We have things like coupons and offer extension ads that allow merchants to basically make offers to our users. So we're looking at how we can take that technology and put it to use, especially in the location space."
Well, Google Offers would be a much more obvious product to compete in the space, and could only complement Google's existing offerings, which span far and wide. According to Google's earnings report for the fourth quarter of 2010, Google generated $8.44 billion in revenue. Obviously much of that is from advertising. You can see the exact breakdown as reported here.
Google's advertising reach is far and wide, and the company is increasingly returning local search results over true organic web results in general searches. If Google Offers gets incorporated into this (and it's hard to imagine that it won't), it's going to be incredibly powerful. It's worth noting that Google Offers also utilizes Google Checkout from the looks of the screenshot, but that's another story.
So, one has to wonder if Google made the right decision by rejecting Google's offer. Should the company have accepted or does it have the power to remain a leader in the space?
Groupon is rapidly expanding into more countries (sometimes by acquisition of other Groupon clones), and it just raised nearly a billion dollars in a recent round of funding. Groupon says it intends to use this toward fueling global expansion, investing in technology, and providing liquidity for employees and early investors.
Groupon is also gearing up to advertise during the Super Bowl pre-game (the game itself was sold out). This should attract a lot of eyeballs, and could help spread the Groupon brand name to a lot more people who aren't already using it.
It's also worth noting, however, that last year, Google ran it's first-ever TV spot during the Super Bowl. The leak of Google Offers comes at an interesting time (just before the AFC and NFC championship games, which will determine who goes to the Super Bowl, to be played next month). Could Google have something in store for the Big Game this year?
Before announcing his new role with the company, Eric Schmidt discussed the key points of Google's strategy for 2011, and they are all about mobile. And where does local search work the best?
Perhaps it's premature to say, but Google may become a force to be reckoned with in the deals space that Groupon is currently enjoying. Google hasn't had the best of luck in all of it's endeavors, but this has potentially huge ties to both of the things Google is best at – search and advertising. Plus, it's not like acquiring more Groupon clones is out of the question.
Related: If You're Not Local, How Can You Compete in an Increasingly Local Google?
Will Google dominate the deals space? Tell us what you think in the comments, or join the discussion on our Facebook page.