Google is marking the start of the NCAA Tournament by allowing fans to take a virtual 3D tour In Google Earth of all 14 arenas were the games will be played.
The company has created a special page to help people manage their tournament experience over the next few weeks. Fans will be able to view an up-to-date tournament schedule, tour college campuses in Street View and click through to watch games on NCAA March Madness on Demand.

Users can also create a bracket via Google Docs, read Google News articles on the games and download basketball related apps in the Chrome Web Store.
Google has included a "Distance Tool" as well. The Google Blog offers more details. "There's been a long-running debate over whether teams playing closer to their home court have an advantage, we added a "Distance Tool" on the map to make it easier to measure how far schools have to travel from game to game."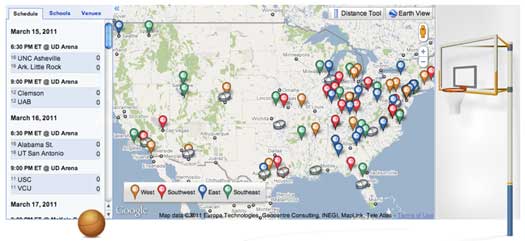 "We'll see how things play out, but the defending champion Duke Blue Devils may have to travel more than 2,000 miles to Anaheim if they win their first two games."