Google map maker is a community cartography service that allows users from all around the world to add and update locations from the more obscure corners, as well as those places simply untouched by the world of online cartography.
According to Google, only 15% of the world's population had detailed community maps before the debut of Map Maker. Now, after submissions and editions from 183 unique regions, Google reports that 30% of the world now has accurate online maps of their communities.
Until now, maps were being made by amateur cartographers all over the world, but not in the States. Today, Google is announcing that Map Maker is now open in the U.S.
Basically, Google's philosophy with the Map Maker is that people know their communities the best. Since most of America's major infrastructure is already logged and readily available on Google Maps, most of the additions in Map Maker will just add detail and specificity to communities.
For instance, a user can add locations, say the Tequila Cantina on he corner of Mill St. and Main St. Users can edit incorrect information about where things are actually located in their town. Google suggests that map makers in college towns provide detailed maps of campuses. The Map Maker can also be used to add small pathways like bike paths that might not be already included in Google Maps.
Each new submission will be reviewed for accuracy and Google says they will have them up within minutes. This real-time visual log of map updates is pretty cool. See it in action here.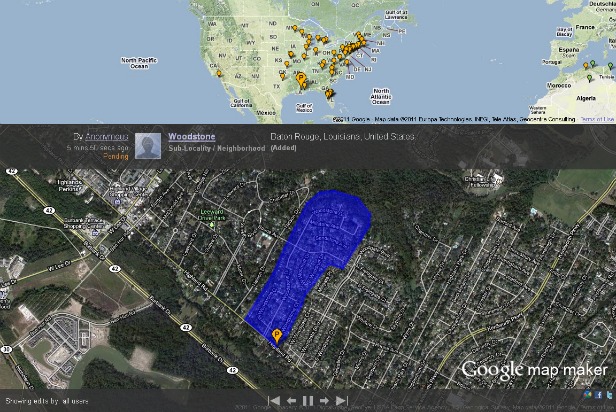 Also, users everywhere now have access to street view within the map maker, which should help. So let's go, people – log those places. Sometimes, when I'm in an unfamiliar small town, I can't find a pizza place or a diner to save my life. I'm looking at you, Sparta, Georgia.