Google has added a new export feature to its Chrome extension that lets you block sites from your search results. You can export the list from Chrome to your Google account.
This makes a lot of sense, as you should be able to keep these sites blocked from whatever browser or computer you happen to be using.
"By storing your personal blocked sites list with your Google account, Google hides these sites from your search results when you're signed in," says Google Search Quality Engineer Ray Zhong.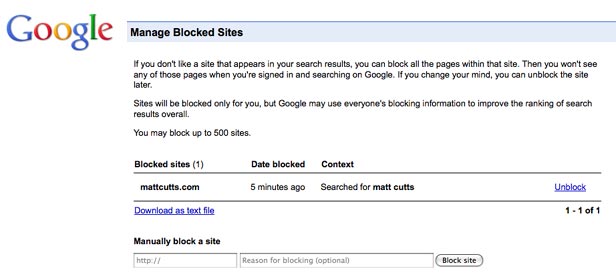 "The sites that you export will be hidden from your searches while you are signed into your account," Zhong says. "You can unblock or manage the blocked sites at any time in the Search Settings Blocked Sites screen."
If you use the extension, just click the extension's logo, select "export" from the screen that shows your personal blacklist, then click "export to Google". You can then disable the extension if you want.
Of course the Chrome extension already wasn't the only way users could block sites. There's a feature right in Google's results themselves that let you block the site after you've visited it.
Google has made it clear that that it takes into account blocked sites in its ranking algorithm.
So, if you're producing content that is likely to irritate people when they're searching for something, this may hurt you. The moral of the story is to produce content that doesn't irritate people.
Still, I'd be interested to know how much these site blocking features are really being used.