Google has released a new version of the Gmail app for in the Android Market. The company says Gmail updates are no longer tied to Android version releases, though the update does require Froyo (Android 2.2).
Now you can get new Gmail stuff faster without having to wait for system updates. To start you off, we've improved message replies, access to quoted text, and more," says the Gmail for Android team. "As you scroll through a conversation, your most important message actions will now stick to the top of the screen, one click away, no matter how long the email is."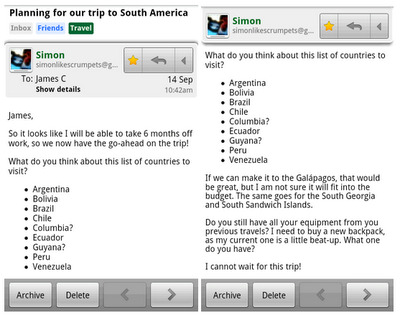 For long threads, users can now view previous message content more easily, similar to the desktop version of Gmail. You can tap "show quoted text" to see the previous message.
This version of the app has limited support for Priority Inbox, which Google launched for the desktop at the end of last month.
Users who have enabled Priority Inbox from the desktop version will see an "Important" label that shows all messages flagged as important. An "Important" shortcut can be added to the homescreen as well.