Google is launching the latest stable release of its Chrome Browser for Windows. This version comes with the heavily requested extensions and bookmark sync features.
"Bookmark sync is a handy feature for those of you who use several computers — say, a laptop at work and a desktop at home," explains product manager Nick Baum. "You can enable bookmark sync to synchronize your bookmarks on all of your computers so that when you create a bookmark on one computer, it's automatically added across all your computers. This means that you won't need to manually recreate the bookmark each time you switch computers." There's a step-by-step guide here for using bookmark sync.
Google recently launched its extensions gallery in beta, and it now has over 1,500 extensions.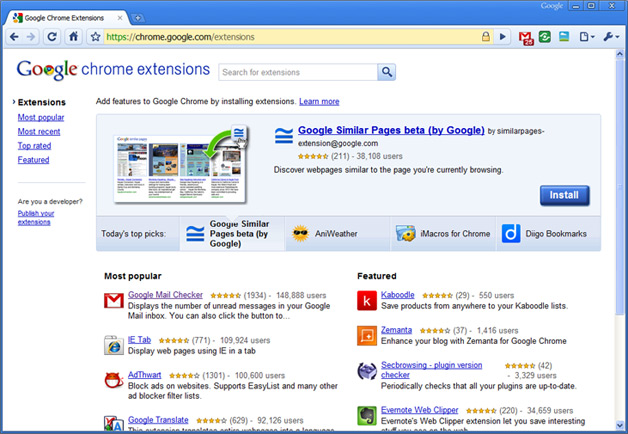 Baum appears in the following video explaining how to use extensions on Chrome:
For developers, Google has integrated some new HTML5 APIs like LocalStorage, Database API, WebSockets, etc. in the new stable release. These are elaborated on here. In addition, Google has improved the performance by 42% from its last stable release (400% from the first one), the company says.
Google says that for Linux users, extensions are enabled in the beta channel, and for Mac users, they're working on bringing extensions, bookmark sync and other features to the beta version soon. Users of the current stable version of Chrome for Windows will be automatically upgraded over the next week.
Related Articles:
> Chrome Ad Campaign Nets Positive Results