Google is not having the best possible week. Yesterday, an analyst representing J.P. Morgan cut his price target on the company's stock by $73, and today, an analyst with Oppenheimer followed suit, actually cutting his price target by an even-more-dramatic $115.
Not all is lost. Jason Helfstein still feels Google's doing well in the U.S., and even believes the company deserves an "outperform" rating, which is about as good as it gets.
Also, people who have invested in Google can't complain about the company's performance on the stock market today, given that shares rose 1.41 percent.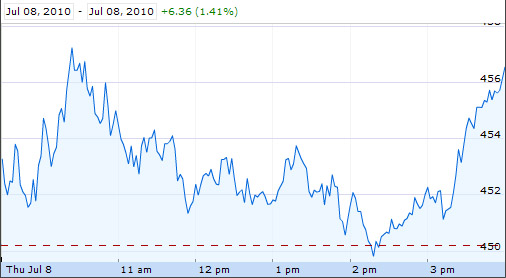 Here's what Eric Savitz wrote about Helfstein's overall forecast, though: "Helfstein cuts his 2010 pro forma EPS outlook to $27.39, from $28.48; for 2011, he now sees $31.50, down from $33.34, and for 2012 he goes to $36, from $39."
And those, viewed together with the price target chop, are some fairly significant reductions.
It might be wise for everyone not to get their hopes up in advance of Google's second quarter earnings report, which is scheduled for next week, then. Or maybe Google will pull off one of its semi-routine miracles and just wow us more than usual.