We seem to have by and large gotten past the period in which investors lived in constant fear of crashes; people no longer use terms like "double dip" and "depression" on an everyday basis.  There will never come a time when investors won't want quick access to financial info, though, and so Google's made some changes to its mobile search results that should meet with their approval.
English-speaking folks with Android devices (running at least Android 2.1) or iPhones are the targets here.  There aren't any hoops to jump through or tricks beyond that; users just have to search for a stock symbol to get started.
Next, a post on the Google Mobile Blog explained, "The first thing you'll see is an interactive graph shown on a card – you can switch views to different date ranges by tapping on the buttons below the graph."
Then the post continued, "If you swipe the card from right to left, you'll get the latest financial news for the company."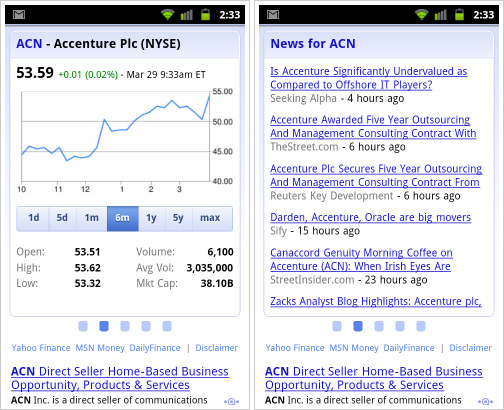 Finally, it stated, "Swipe again for a market overview, and if you're logged in to your Google account and have created a Google Finance portfolio, a further swipe will show a summary of your stock portfolio."
That's a smart series of readouts to provide.  We imagine this upgrade might cause some confusion every now and then when people were just looking up acronyms, but those problems should be far outweighed by the upgrade's usefulness to investors.
Now just cross your fingers that the average individual doesn't find it necessary to look up falling stock prices too often.