Google has added multiple sign-in to Google Finance. This means users can now use more than one Google account in the same browser session to access Google Finance.
"Gone are the days of switching between browsers to see your personal vs. professional financial portfolios, news, and charts," says product manager Brian Shih. "With multiple sign-in, you simply switch between accounts using the upper right hand navigation tool. The site will smoothly transition to your other account, allowing you to view other account portfolios in the click of a mouse."
To utilize multiple sign-in with Google Finance, click your username in the upper right-hand corner, then click "Google Account Settings" to get to you profile page. From there, click "edit" next to the multiple sign-in setting.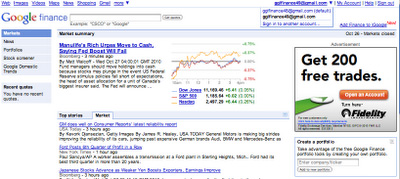 Google has been allowing multiple sign-ins for some products since at least early August. Just remember the warning Google provided back then:
Enabling multiple sign-in will disable Offline products like Offline Gmail and Offline Calendar, as well as any browser bookmarks you've set to link to your accounts. If you use Offline Gmail, make sure to sync your offline mail before enabling multiple sign-in so you don't lose any messages in your outbox. If you would like to continue using Offline Gmail, Offline Calendar, and browser bookmarks linked to your accounts, do not enable the multiple sign-in option. If you have already enabled multiple sign-in, you may disable it.
Google also offers multiple sign-in for the desktop versions of Google Code, Google Calendar, Gmail, Google Reader, Google Sites, and Google Voice, with Google Docs support coming soon.