Never mind the associated cubicles, desks, chairs, and monitors that, for many people, have become part of everyday life. A Google exec believes desktop computers will be irrelevant in three years' time.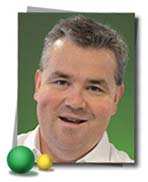 No twisting of words or misinterpretations took place here. John Herlihy, Google's vice president of global ad operations, simply said at University College Dublin's Digital Landscapes conference, "In three years' time, desktops will be irrelevant."
According to John Kennedy, Herlihy then argued, "In Japan, most research is done today on smart phones, not PCs . . . . Mobile makes the world's information universally accessible."
So if Herlihy's views are representative of Google's, it's probable that the company will continue to focus more and more on Android. Chrome OS, the lightweight operating system intended for netbooks, should get a lot of attention. And Google's cloud storage offerings will likely be expanded, too, to compensate for the small hard drives in smartphones and netbooks.
Interestingly, though, mobile ad opportunities may not be a primary consideration next to all of this stuff. Herlihy said, "When we build something we strive for ubiquity in usage and adoption. That helps us understand how customers react and then we build a revenue model."