Google Earth fans who own smartphones and tend to spend a lot of time stuck in traffic, sitting in dentists' offices, and bored during commercials can now explore a part of the planet that was previously unavailable for sightseeing. The latest Google Earth for Android update adds underwater terrain.
Fair warning: a lot of people have had trouble installing Google Earth 1.1 for Android; the comments section of a blog post announcing its release consists of little other than complaints. Still, exploring the oceans should be fun for folks who can get the update to work.
Jenifer Austin Foulkes, a product manager, wrote on the Google Mobile Blog, "The latest version of Google Earth for Android also introduces the 'Explore the Ocean' layer, which features hundreds of photos and videos from more than 100 contributors who are excited to share their stories of sea. Plan your next vacation during your daily commute by clicking on any of the little blue icons. The gold highlighted icons represent content from the Mission Blue Hope Spot initiative."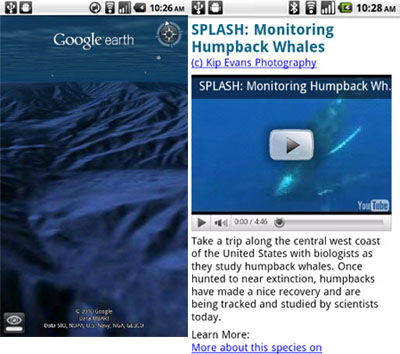 What's more, "For those of you running Android 2.2 . . . . Google Earth now supports Flash in balloons, so if you have the Flash player installed on your mobile device, you can watch videos right in the balloon. We've also made the program easier to navigate; for most devices, you can now use two fingers to 'look around' and change your viewpoint, as an alternate to using the on-screen button. . . . Rotating your view with a simple twist of your fingers is now available on more devices as well."
These improvements should increase Android's eye candy factor, perhaps making it more attractive to undecided consumers or at least pleasing current owners.
Of course, at this point, the update also highlights the problem of Android segmentation, which is less desirable.