As 2009 came to a close, Google managed to get SEOs riled up for one last controversial topic. For some time, SEOs and web designers have been noticing that Google has not been showing local listings in search results for queries related to their businesses – even location-specific ones.

Should SEOs and designers be worried about local listings? Comment here.
As Matt McGee mentions in a Search Engine Land piece, even a query like "candy" without any geographical indicator will bring up a seven-pack of local results, but a query for "seo" or "web design" or even something as specific as "web design vancouver" will bring up no local listings whatsoever (although the organic results still heavily favor local businesses in location-specific queries).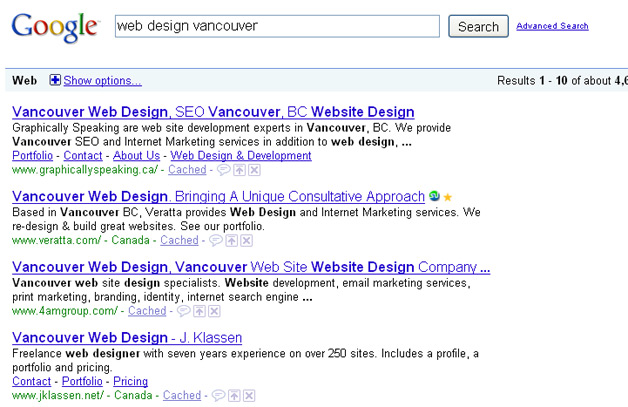 Needless to say, some SEOs and designers are taking this as something of a slap in the face, justified or not. Search engine optimization and web design are both services after all, and just about every other type of service you can think of will yield local listings in a Google search.
While this phenomenon was originally thought to be a bug, Barry Schwartz of RustyBrick fame points to a Google Maps Help thread where a Googler going by Joel H. tells a different story:

Today, we're intentionally showing less local results for web design / SEO queries. For example, [web design sacramento] doesn't display local listings today. We believe this is an accurate representation of user intent. In some cases, we do show local listings, however (as NSNA/php-er noted) [web design in bellingham]. I'm sure some of you feel we should be displaying local results for queries like [Web Design Vancouver]. I understand that concern, but based on our understanding of our users, we feel this is the right decision for now.
I'll give the usual disclaimer that we're constantly working on improving the user experience and results will vary over time. So, this could change in the future, but I wanted to be explicit about what we're doing today.
So if you use the word "in" in your query, you are more likely to get the local results. Some still have a hard time finding the logic in this move.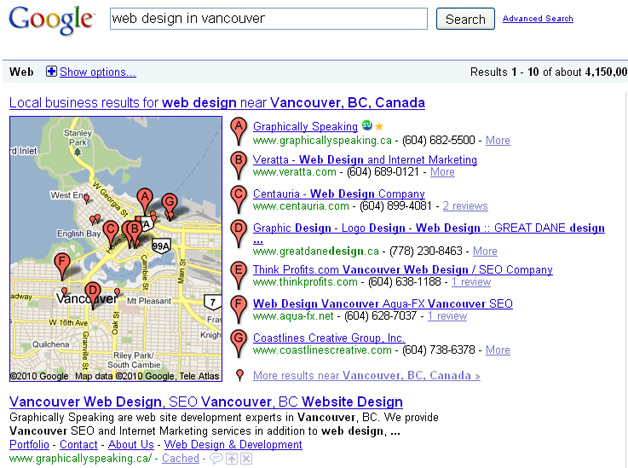 "I'm all for their interest in balancing for user intent – it's their business, their product – but I'm missing the logic here," comments Bill Sebald.
"I find this disturbing," says Scott Clark. "If I have a physical location in a given area, offer a service to customers in that area that is close to their query, then onebox listings should appear as they do for other creative-class industries."
Not all SEOs have such a problem with what Google is doing though. "I want to be found by people everywhere, not just in the small city I happen to live in at the moment," a content writer comments.
"But you would think that if people typed in a city name or other location, they are actually looking for local results and the maps could be useful," they add. "Although if you have optimized your website for your location, you should get found anyway. And I do all my work online, people don't need to visit me or even know where I am located so in that sense the maps aren't always useful or necessary."
People are saying that in some countries, they are still seeing local results for the type of query in question. It is possible that Google has just not rolled out the changes everywhere yet. The quoted content writer suggests that Google just doesn't know the user-intent of all of its countries' people as well as it does for the countries where the changes exist.
What do you make of Google showing less local results for SEOs and web designers? Will it hurt local businesses? Share your thoughts.
Related Articles:
> Google Adds Place Pages to Google Earth
> Google Comes to Brick and Mortar Store Windows