Over the last month or so, most of the discussion around social media has been mostly related to Twitter and Facebook, as both recently had their developer conferences and introduced some new things to get people talking. We haven't heard a whole lot of discussion around Google Buzz. When we have, it's still mostly been about privacy.
Google hasn't had its developer conference for the year yet though. That's coming up in a couple weeks (WebProNews will be there covering it by the way). While there has been much anticipation about Android and even Google Wave news from the show, I would not be surprised to see some new Buzz-related things introduced.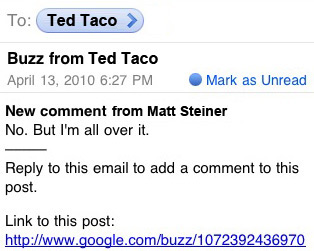 Today Google introduced a new feature for Buzz that lets you comment via email. "One of the things people like best about Google Buzz is the ability to have conversations in the comments," says Google Software Engineer Henry Wong. "But until now, if you were reading a post in an email client (like the native mail app on your phone or Outlook), you couldn't easily join in on the conversation — you could only email the original poster. Today, we rolled out a new Google Buzz feature for you to try out: comment via email. Now, you can comment on the post simply by replying to the email message."
Google is also now letting Buzz users view entire photo albums in Buzz, as opposed to just the limited amount of pics from Flickr/Picasa that were previously able to be viewed.
Google says it is "chipping away at the feature requests" its receiving, so that leads me to believe that more features are on the way. We'll see if any of them can spark the public interest.