Matt Cutts from Google, Harry Shum from Bing, and Rich Skrenta from Blekko spoke on a panel today at the Farsight Summit. Much of the conversation was around the Bing/Google results copying ordeal, but part of the conversation was about search quality in general, and the impact content farms are having on it.
Blekko announced this morning that it has banned eHow and other content farms from its results. See the full list here. Watch our recent interview with Skrenta about webspam here.
Cutts was quick to extend some praise to Blekko, saying they "made a great domain," and that he appreciates that they've done some interesting things lately, mentioning the spam clock, for example. He quickly followed that up by saying, "The fact is that we do use algorithms and that's our first instinct, but when we see manual spam, we are willing to remove it manually."
He added that within Google, they could say certain domain names are webspam, but they're trying to do things algorithmically. "We have a lot more projects that we're working on," he added, appearing to suggest that Google's not done with its content farm cleanup process – at least that's how I interpreted it (something I suggested in a recent article).
Cutts said that when Google finds spam with its manual team, it also ejects it from Adsense, and that people tend to put the blame on AdSense, but even if that disappeared, we'd still have spam.
When asked what incentive Google would have to remove content from AdSense-driven pages that drive billions of dollars for the company, he just said that Google has always taken the philosophy that they care more about the long-time loyalty of users.
Then Demand Media was specifically brought up (as it has been by inquiring minds in other instances), but there was still plenty of vagueness. Cutts' response was to mention a comment on Hacker News about how Demand Media had five articles on how to tie your shoes, then simply turn it around to "we don't care if a site is running Google ads…we take action…we want to find an algorithmic solution."
Meanwhile, plenty of this type of content is still saturating Google SERPs. There are way more than five articles from eHow on fixing scratches in your car's paint, as illustrated in another article: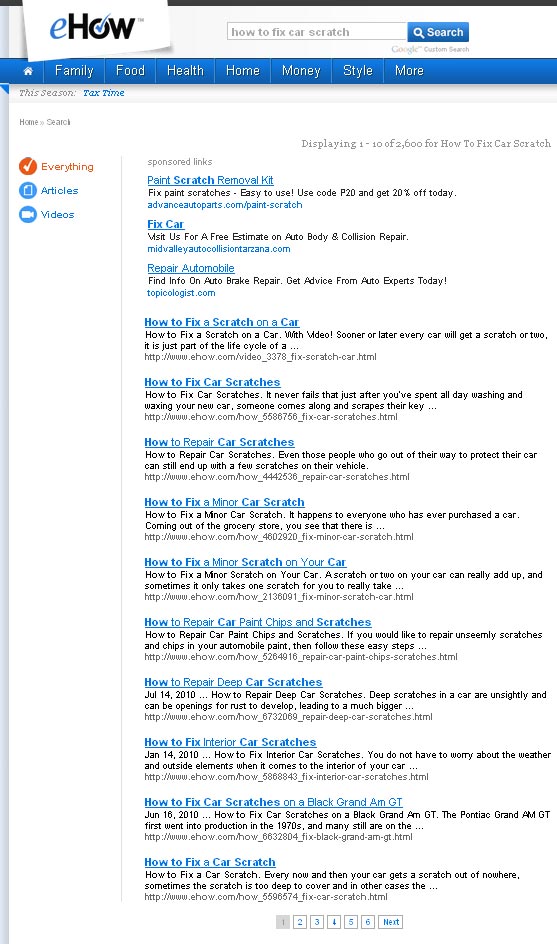 Note: He did not say anything to the effect of "we don't consider eHow a content farm."
Clearly Blekko is less shy about what it considers a content farm (again, see the list linked to above). Skrenta says "there's more spam than good sites," and that it's "easier to make a list of the sites that you actually want to go to. He notes that the top fifty medical sites have actual doctors and medical librarians creating and curating content (as opposed to what you might find from a site like eHow).
The Bing position appears to be to let Google lead the way in how to deal with search quality, which is kind of a fun position given the whole results-copying ordeal. Shum said Matt and Google need to "take this thing very seriously" because they and the industry are looking to the leader to make the web more fair and cleaner. He did say that they were also looking at Blekko and what others are saying about the topic as well.