Google announced that it has extended its Google Maps Send-to-Car service to Ford and GM vehicles. This applies to Ford, Lincoln and Mercury vehicles in the US that are enabled with Ford SYNC, as well as OnStar equipped GM vehicles, which include models from Buick, Cadillac, Chevrolet, GMC, Hummer, Pontiac, Saab and Saturn.
Users of the Send-to-Car service can send business listings or addresses found on Google Maps directly to their cars. The expansion of the service is great news for local businesses, and perhaps makes it all the more important to hone their Google Maps presence.
"Drivers can then use their car maker's turn-by-turn navigation system to be guided to their selected destination. With today's additions, drivers can send destinations from Google Maps directly to their connected vehicles in 19 countries and more than 20 different brands," says Markus Mühlbauer, Engineering and Product Manager. "In the US alone, Send-To-Car is now available on more than 15 car brands and we hope to see even more partners join us soon."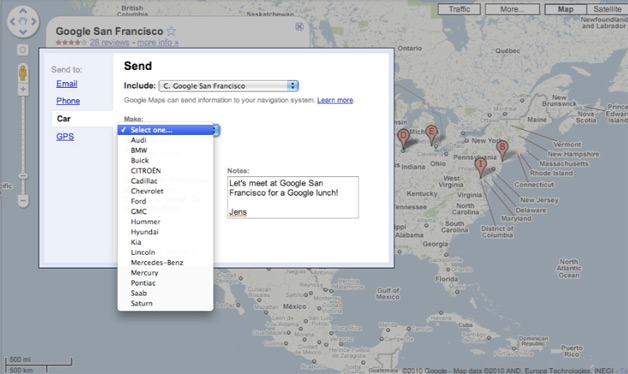 "We think this is a great convenience for drivers – Prepare your route at your desk, send the destination to your car, and safely enjoy your ride – hands on the wheel, eyes on the road," he adds. "We also like to think that in the age of green driving, not having to print paper directions anymore is a great start of a green trip!"
Now imagine if Google gets Android into that many vehicles one day, and consider the potential for apps that cater to the driving experience. Also consider that app-making is getting simpler.