Google introduced a new security feature for Gmail today. It notifies the user when a suspicious log-in activity is detected on their account. This notification will come in the form of a message saying ""Warning: We believe your account was last accessed from…" along with the geographic region that Google can best associate with the access. Engineering Director Pavni Diwanji explains on the Gmail Blog:
To determine when to display this message, our automated system matches the relevant IP address, logged per the Gmail privacy policy, to a broad geographical location. While we don't have the capability to determine the specific location from which an account is accessed, a login appearing to come from one country and occurring a few hours after a login from another country may trigger an alert.
By clicking on the "Details" link next to the message, you'll see the last account activity window that you're used to, along with the most recent access points.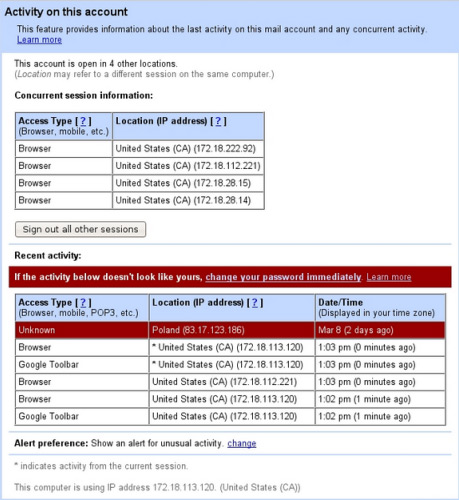 Gmail will allow users to change their passwords from the same window if they choose, or they can click "dismiss" if they are sure the log-in activity was legitimate.
Google intends to extend the feature into Google Apps after enough feedback is gathered.