If you are not familiar with GeoEye, it's the company behind the GeoEye-1 satellite. This is a satellite with a very high-resolution camera on it that takes pictures of the world, and Google uses imagery from that in Google Earth and Google Maps.
Back in September, GeoEye announced the one-year anniversary of the launch of the GeoEye-1. Since then, it had imaged every continent in the world, chronicled several noteworthy events (such as President Obama's inauguration and a North Korean missile facitlity before the launch of a long-range missle), collected about 54 million square kilometers of imagery, and taken over 200,000 images. That was months ago, and it's probably accomplsihed quite a bit more since then.
"While we're constantly adding such great imagery, what we've published to date represents only a subset of the available imagery from GeoEye-1, which is capable of collecting hundreds of thousands of square kilometers of imagery every day," says Google. "From this stream of GeoEye-1 imagery, we regularly receive images that we think would be of special interest to Google Earth users; some of these images are of interesting places, like Mt. Kilimanjaro or Las Vegas, and others relate to current events, like preparations for the 2010 Winter Olympics in Vancouver. However, it can take a bit of time for these images to be fully integrated into Google Earth and Google Maps given the processing time required, which includes image orthorectification and blending."
With that in mind, Google has now created a GeoEye Featured Imagery layer in Google Earth to showcase GeoEye imagery before it can be fully integrated into Google Maps and Google Earth. "Included within this layer are 20-30 Featured Imagery placemarks, including a thumbnail of the image, a link to view the image in full-resolution, and a wealth of information about the scene, including resolution, collection date, and a narrative about the location," the company explains. "Additionally, you'll find links to other images in the collection, and links to social networking sites, including Twitter, which allow you to share favorite scenes with others."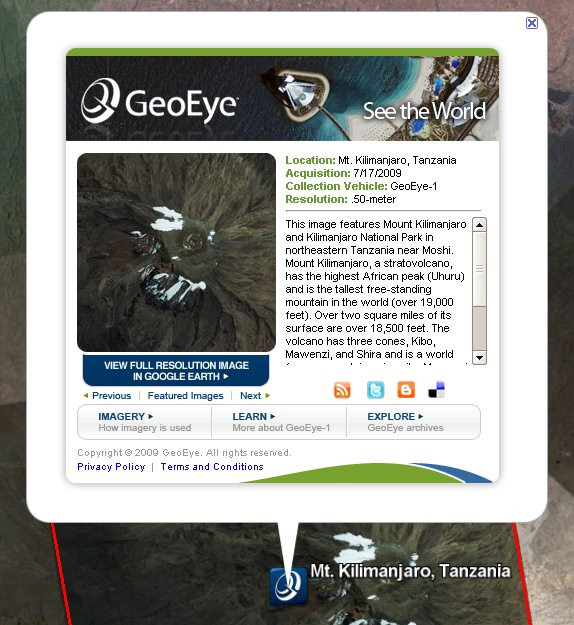 On a somewhat related note, Google is also now mapping interiors of places. Before you get too worked up, don't worry, they're not coming into your house), but they do have imagery up from within the San Diego Zoo (via TheNextWeb).

This imagery comes from the Google Street View Trike, which was designed to photograph tighter places where its Street View cars can't necessarily go. As other have pointed out, there are other companies out there starting to map internal imagery like this, such as Micello and PointInside. It will be interesting to see how Google competes with these or if they form any partnerships in the future.

Related Articles:
> Google Adds Place Pages to Google Earth
> Google Comes to Brick and Mortar Store Windows