Bing announced some special features for the Golden Globes, for those who are unable to watch the ceremony this evening. One feature is called Golden Globe Instant Answer, and is essentially what its name implies.
You can search Bing for "Golden Globes" and get an instant answer at the top of the results, showing relevant content. Here you can see nominees, past winners, etc.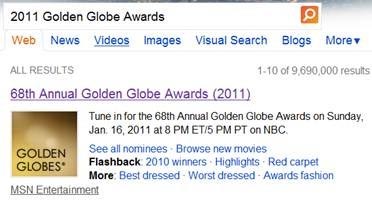 Another feature, Golden Globe Visual Search Gallery, lets you check out nominees in all the different categories visually. "Whether you're looking for 'best original score' or 'best motion picture', you can sort by category in a matter of clicks," says the Bing team.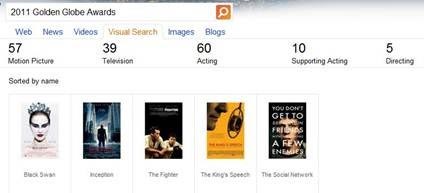 Microsoft also has a Golden Globes guide that you can check out to catch up. "To help prime you for the ceremony, MSN Entertainment has created a guide for the event with comprehensive coverage on the nominees, red carpet coverage from the event, photos and videos of the stars and even the latest celebrity news," the Bing team says.
The content will of course be updated as the ceremony goes on and afterwards, so if you can't watch it, but are interested in the results, this should be a good place to find what you're looking for.
Granted, the results will no doubt be all over Twitter, Facebook, Google, and everywhere else on the web.