The global smartphone market reached a new milestone in the third quarter of 2010 (Q32010), with the top vendors posting significant growth, according to a new report from IDC.
Smartphone vendors shipped a total of 81.1 million units, up 89.5 percent from the 42.8 million units shipped during Q309. For the first three quarters of 2010, vendors have shipped a total of 200.6 million units, up 67.6% from the 119.6 million units shipped during the first three quarters of 2009.
"That the smartphone market has grown nearly ninety percent from last year and more than six times the overall mobile phone market indicates strong demand worldwide and vendors' collective ability to meet that demand," said Ramon Llamas, senior research analyst with IDC's Mobile Devices Technology and Trends team.
"Increasingly, users look to smartphones as their next devices while carriers have broadened selection and offered generous subsidies. To keep up with demand, vendors' plans to emphasize smartphones in their portfolios have resulted in sharp growth as evidenced by Motorola, Samsung, and Sony Ericsson. We expect more vendors to do the same."
By the end of 2010, IDC expects more than 20% of all devices shipped to partners worldwide will be converged mobile devices, the first time this has occurred. In comparison, 15% of all devices shipped in 2009 were converged mobile devices.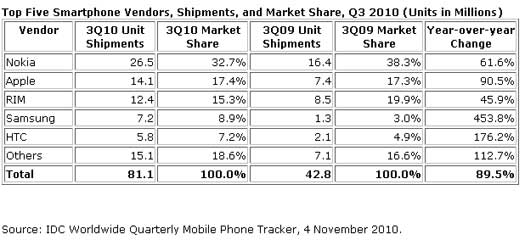 "Smartphone makers have the wind behind their sails," said Kevin Restivo, senior analyst, Mobility, at IDC. "The market transition to smartphones is proceeding at a brisk and unabated pace."
Nokia landed in the top spot in Q3, shipping 26.5 million units with a 61.6 percent increase year-over-year, followed by Apple with 14.1million units and a 90.5 percent increase. RIM came in third, shipping 12.4 million units with a 45.9 percent increase, followed by Samsung, shipping 7.2 million units with a 453.8 percent increase year-over-year. HTC was fifth, shipping 5.8 million units with a 176.2 percent increase.
"The other important development during the quarter was how vendors are seeding the market for future growth," said Llamas. "BlackBerry, iPhone, Microsoft, and Symbian all announced or launched refreshed operating systems, with each one providing an improved user experience over its predecessor."
"While these new operating systems initially appear on high-end devices at launch, they provide a glimpse of what the broader smartphone market will look like next year as the OS finds its way into more devices in the market."