Google has launched personalized voice recognition for voice search on Android 2.2 and higher. If you've used Google's voice search much, you probably know how inaccurate it can often be. This feature should (theoretically) help with this.
Google will get to know your voice and understand it, and your search queries will become more accurate. Google's Amir Mané and Glen Shires explain:
If you opt into personalized recognition, we begin to associate the recordings of the words that you ask us to recognize with your Google account. We then automatically use these words to build a speech model specifically for you. This speech model enables us to deliver greater recognition accuracy. Although subtle, accuracy improvements begin fairly quickly and will build over time.
The first time you use Voice Search, you'll be presented with a dialog to turn on personalized recognition. Google takes your privacy seriously, so you can enable or disable personalized recognition at any time through the Google voice recognition settings on your phone. If you'd like to disassociate your voice recordings from your Google Account, you can do so through the Google Dashboard in the Speech section.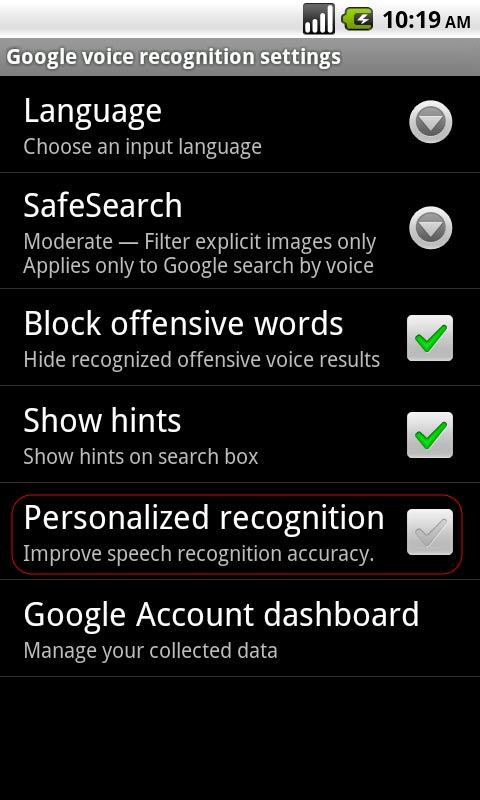 I find it interesting that Google is tying individual voices to Google accounts. While the feature is opt-in and only described as a way to accomplish increased search accuracy, we'll see if Google finds other applicable places to take advantage of this in the future. Perhaps voice search will find its way into Chrome OS. Maybe one day you'll be able to get your phone to talk to you using your own voice (if you're one of those people that likes to hear yourself talk). Google did acquire Phonetic Arts, a speech synthesis company earlier this month.
"In Star Trek, they don't spend a lot of time typing things on keyboards—they just speak to their computers, and the computers speak back," said Google Speech Technology Manager Mike Cohen. "It's a more natural way to communicate, but getting there requires chipping away at a range of hard research problems. We've recently made some strides with speech technologies and tools that take voice input: for example, we launched Voice Search, Voice Input and Voice Actions for mobile phones, allowing you to speak web searches, compose emails by voice, ask your phone to play any song, and more. And last year we started automatically transcribing speech to produce captions on YouTube videos."
Phonetic Arts comes in when you start talking about computers talking back to you.
For now, the new voice search recognition feature is just for voice search accuracy. Maybe that's all it will ever be for, but we'll see. It's currently only available in English in the US, but this will no doubt expand broadly in due time. To get the feature, if you have FroYo or better, simply download the voice search app from the Android Market. There's a QR code here.