A lot of sites have been experiencing major crises in traffic over the last week or so since Google's recent algorithm update aimed at low quality content. Gawker has been hit with a similar problem, but for an entirely different reason.
Gawker Media founder Nick Denton revealed today that the company's traffic is down by nearly a quarter as a result of the recent widely publicized redesign.
The design, explained by Gawker here, took a fresh almost tablet-like navigation approach to serving up content – where articles are loaded onto the screen without actually leaving the page.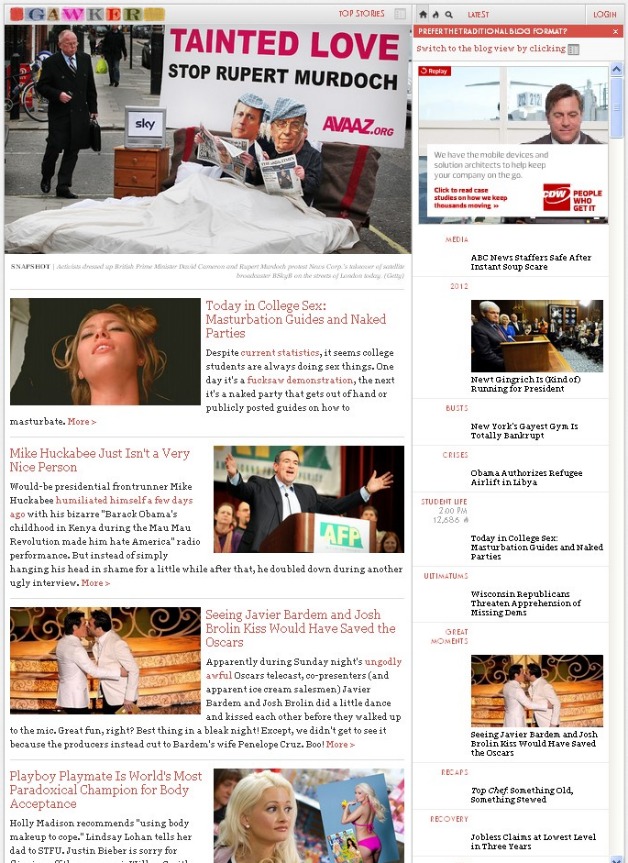 Many thought the move would have a huge (and negative) impact on Gawker's pageviews, which it seemingly has so far. There have also been plenty of complaints among readers, but that's to be expected with any redesign. You can't fault them too much for trying something different than the norm.
Joe Pompeo at Yahoo News reports on an interview Felix Salmon did with Denton at the PaidContent event today:
"We're probably down by about 25 percent," Denton told Reuters blogger Felix Salmon during a Q&A session. "I'm pretty confident we're gonna be coming back."
As for revenues: "We set the targets flat on last year so the sales people wouldn't be demoralized by the inevitable disruption," he said. "We knew this was going to be traumatic." Nevertheless, he notes that "our overlying business is pretty strong."
In a memo to Gawker staff (published by Business Insider), Denton said, "Obviously, the reduction in traffic from Google — as from most design changes — has been significant. It doesn't affect readers of the site — but it does have a disproportionate effect on uniques. Search optimization of the new layout is a top priority."
Much of the memo also addressed performance issues, so it's possible that could have played some role, even if minor, in the search traffic. Google, as you may know, counts site speed as a ranking factor now.
Denton recently made a bet with Rex Sorgatz that Gawker's pageviews will increase with the new design. Denton recently addressed this on Twitter:

Time for @nicknotned to pay up on his bet to @fimoculous? http://t.co/7GIfqokless than a minute ago via Tweet Button
Kevin Hoffman
panopticon13
@panopticon13 No, we have till October to show a rebound in pageviews. Six months is a long time in web media.less than a minute ago via Twitter for iPhone
Nick Denton
nicknotned
It will certainly be interesting to see if Gawker can recover. Denton seems pretty intent on keeping the design around for a while, and he also mentioned that he won't be selling out to a big corporation anytime soon.