Popular comedy site Funny or Die has launched a new redesign, adding adds new content and features. The site now provides new themed photo galleries, top 10 lists, and special guest blogs. It also gives advertisers a larger presence on the homepage and more in-video opportunities across the site.
"Our new design reflects how far we've come at Funny Or Die," says CEO Dick Glover. "We've grown beyond the top comedy website to become a best-of-breed digital studio producing content for all major distribution channels. And, along the way we've become sustainably profitable."
The site even has its own HBO show now called "Funny or Die Presents," which premiered in February (and is currently in production for its second season. Comedy Central has also tapped Funny or Die for content, and the company will present its first movie next year.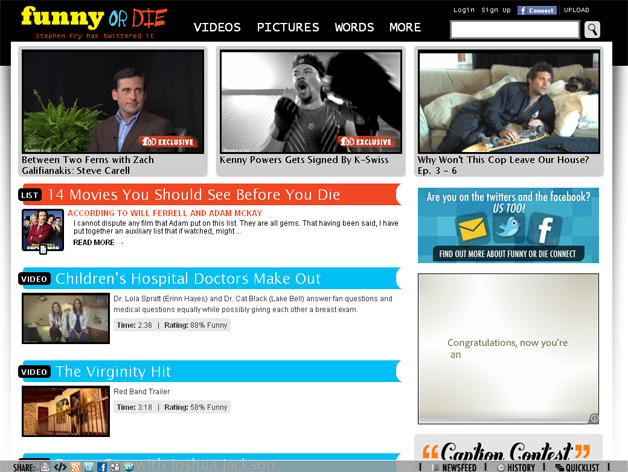 The company says this year it has expanded its service offerings to partners and advertising clients. This includes a branded entertainment division creating campaigns that combine brand advertising and viral video. Examples include campaigns for the Axe Comedy Tour, Cottonelle, Mini Cooper, Pepsi Brisk, Sony's "The Other Guys," Travel Channel, Edge, Paramount's "Dinner for Schmucks," and others.
Funny or Die also points out that it frequently drives trending topics on Twitter, and attracts a great amount of attention on Digg. Currently Funny Or Die has about 1.5 million Twitter followers and 1.2 million 212,962 Facebook fans.