The Federal Trade Commission (FTC) said today starting April 1, advertising for "free credit reports" online will require new disclosures to help consumers avoid confusing "free" offers which often require them to spend money on credit monitoring or other products and services.
The FTC's Free Credit Reports Rule will require new prominent disclosures in ads for "free credit reports." Any website offering free credit reports must include a disclosure, across the top of each page that mentions free credit reports, which reads:
THIS NOTICE IS REQUIRED BY LAW. Read more at FTC.GOV.
You have the right to a free credit report from AnnualCreditReport.com
or 877-322-8228, the ONLY authorized source under federal law.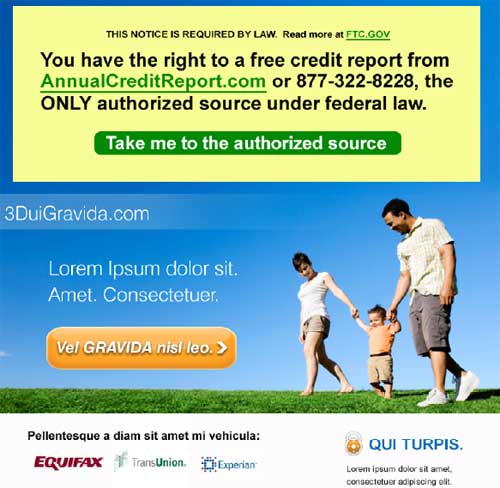 The website disclosure must include a link to "Take me to the authorized source" and links to AnnualCreditReport.com and FTC.GOV.
The amended Rule also restricts practices that might confuse or mislead consumers as they try to get their federally mandated free annual credit reports. The new Rule requires consumer reporting agencies including Equifax, Experian, and TransUnion to delay any advertising for products or services on AnnualCreditReport.com until after consumers receive their free credit reports.
The wording of the disclosures for television and radio ads goes into effect on September 1, 2010. The FTC said it will monitor the effectiveness of the amended Rule, and will consider additional changes if necessary.