The Federal Trade Commission has launched a new advertising literacy campaign aimed at helping older children understand the ads they say and become smarter consumers.
"Today's kids see advertising everywhere – in movies and TV shows, outdoors, on phones, in games," said David C. Vladeck, Director of the FTC's Bureau of Consumer Protection.
"That's why it's important to teach them how to apply critical thinking skills to the ads they see. The resources at Admongo.gov help kids figure out who's responsible for ads, what ads are saying, and what ads want their target audiences to do."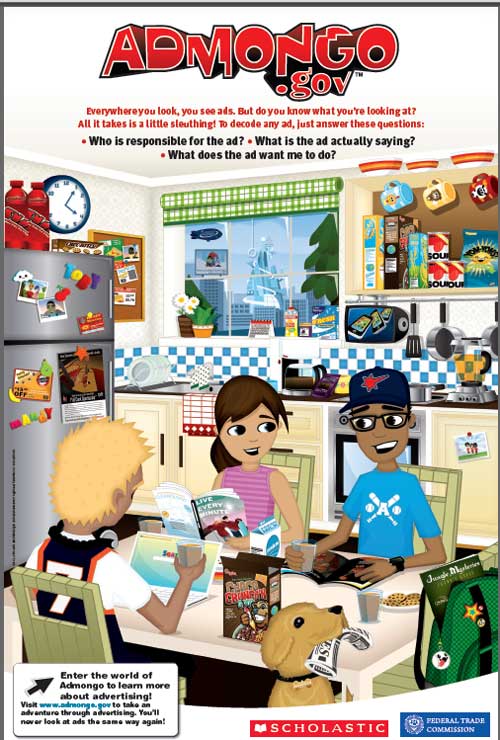 The campaign is targeted to "tweens" ages 8 to 12, and includes a free game-based website at Admongo.gov. The curriculum is tied to national standards of learning in language arts and social studies that teachers can use to educate students, a library of fictional ads that can be used as teaching tools, and activities parents can do with their children.
The online game allows kids to create an avatar and features four levels of play to help them think critically about advertising. In "The Atrium," they identify the ads that are around them. In the "Assemblimator," they learn how to take apart an ad, evaluate its claims, and figure out how ads try to persuade people. In the "Planadtarium," they find out how ads are targeted, and in "The Adgitator," they build and target their own ads. Throughout the game, players learn to ask the three critical questions about ads, no matter where they see them: Who is responsible for the ad? What is it actually saying? What does it want me to do?
"To me, the great thing about Admongo is that its gaming format is designed to reach out to children right at the age where they can actually distinguish between content and advertising," said C. Lee Peeler, President and CEO of the National Advertising Review Council.