Online holiday spending has reached $27.46 billion this season, marking a 12 percent increase over the same time period versus last year, according to a new report from comScore.
The most recent week (weekend ending Dec.17) reached $5.15 billion in spending, an increase of 14 percent compared to the same week last year, with four individual days surpassing $900 million, led by Green Monday (Monday, December 13) with $954 million and Free Shipping Day (Friday, December 17) with $942 million. Free Shipping Day achieved a 61-percent increase versus the corresponding shopping day last year, highlighting the appeal and success of the promotion in which more than 1,500 merchants offered free shipping.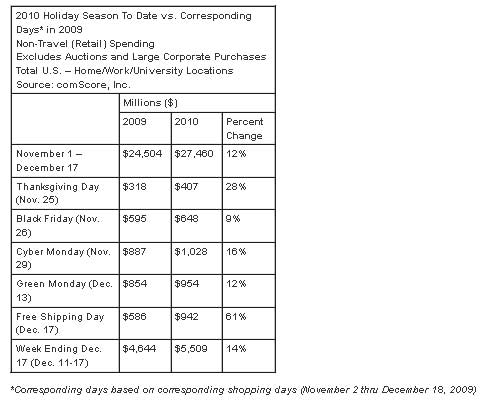 "Free Shipping Day punctuated an exceptional week in which consumers spent more than $5.5 billion online, representing a 14-percent increase from last year," said comScore chairman Gian Fulgoni.
"While no individual days during the week surpassed $1 billion in spending, we saw strength throughout the week beginning with Green Monday and ending with Free Shipping Day on Friday. At this late juncture in the online holiday season, we have likely already witnessed the peak spending day of the year, which means that Cyber Monday should emerge as the season's heaviest online spending day for the first time in history."
comScore's analysis of e-commerce transactions including free shipping indicated that consumers took advantage of the offer later into the season this year, in part due to the appeal of Free Shipping Day on Friday, Dec. 17. Each of the past five weeks has seen free shipping on at least half of transactions, while that threshold was reached only once during the 2009 season. For the five-day week ending with Free Shipping Day, the percentage of transactions with free shipping reached 52.7 percent, 12 percentage points higher than the corresponding time period last year, the most sizeable gap observed this season.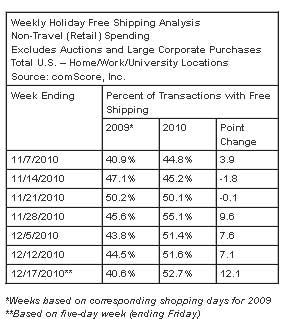 "Free shipping has certainly become one of the prevalent themes of the 2010 holiday season," added Mr. Fulgoni. "Since the week before Thanksgiving, we've seen the majority of online retail transactions use free shipping, which confirms the appeal of the offer for consumers."
"Free Shipping Day also appears to have driven a sustained late-season response, with free shipping transactions accelerating in importance in 2010 whereas they actually began to decline during the same period in 2009."
Computer Hardware ranks as the top growing category for the holiday season to date with a 25-percent increase over last year. Purchases of handheld devices (such as Apple iPads and e-readers) and laptop computers drove much of the growth. Attractive pricing on flat panel TVs continues to drive growth in consumer electronics, which grew 22 percent to rank as the second fastest-growing category. Books & Magazines (up 21 percent), Computer Software excluding PC Games (up 16 percent) and Toys (up 15 percent) rounded out the top five gaining categories.