You may have heard that a few people have been dissatisfied with their recent iPhone 4 purchases. Apple has gone out of its way to make it up to them (whether or not they've done enough is debatable), but that hasn't stopped people from complaining.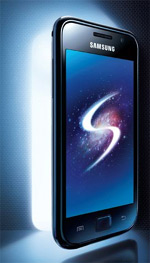 Some of those people got lucky when they complained publicly on Twitter, because someone was listening. It wasn't Apple, but Samsung, who decided to try and convert some of its competitor's users to Samsung users. Samsung has been giving away its Galaxy S phones to some of the complainers, as first reported by Wired UK.
"Recently there has been a real increase in online activity from consumers dissatisfied with some of our competitors' products," Samsung told Wired. "We decided to contact a cross section of individuals to offer them a free Samsung Galaxy S as a replacement, as we're confident that once people have the phone in their hands, they'll see how impressive it is for themselves."
While Samsung's efforts may convert a few iPhone users to Galaxy S users, it might also effectively convert them to Android users, as the phone runs Android 2.1. That could be more long-term.
You have to admit a free phone is a little more enticing than a free case.
The move follows a newspaper ad taken by Samsung, which also mocked Apple's reception issues.
Publicity stunts? Sure. It's working though isn't it?