Hot on the heels of the Internet Explorer 9 release, Firefox 4 is officially releasing tomorrow (March 22nd). However, for those who can't wait another minute, the unofficial download is available. As with things of this nature, WebProNews doesn't condone unauthorized downloading, and so on and so forth.
It was discovered that the final release for Firefox 4 was up on their FTP server, which was then subsequently provided to users though numerous websites. Mozilla strongly discourages these direct downloads, as the current location isn't equipped for massive traffic. So if you feel like being courteous to Mozilla, wait until tomorrow.
If you visit the index.html file on the FTP server, you'll be met with the following message: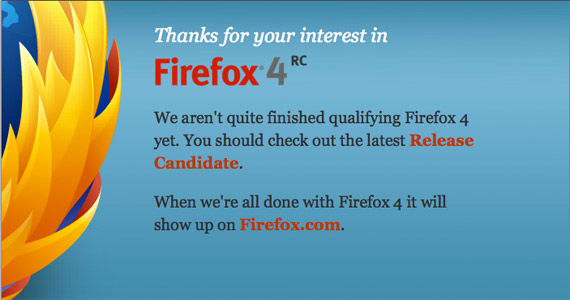 According to the website Fileforum, they've already had over 60,000 downloads for Windows since releasing the links on their site. There are also clients for both Linux and Mac.
It's been nearly eight months since the original Firefox 4 beta was released publicly. Mozilla has been scrutinized for pushing back their initial release date which was supposed to happen last fall. We'll all be able to find out either today, or tomorrow, whether or not the wait was worth it.
The battle for our browser usage has a new chapter, and it will certainly be interesting to see who is able to gain and who will fall back. Though I don't condone anyone using Mozilla's FTP server, if you get an early download, feel free to share your thoughts on it below.