The FBI has announced it arrested a man on Thursday for allegedly selling hacked cable modems that provided free Internet access.
Matthew Delorey, 26, of New Bedford, Massachusetts, is charged with one count of conspiracy to commit wire fraud and one count of wire fraud. If convicted, he faces a maximum sentence on each count of 20 years in prison and a maximum fine of $250,000.
Delorey ran a now shuttered website called Massmodz.com which sold cable modems which were hacked and reconfigured to allow them to be used for free, untraceable access to the Internet.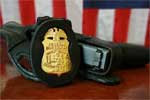 Delorey, through his website sold two hacked modems to an undercover FBI agent posing as a customer.
Delorey marketed his hacked modems in a Craigslist post advertising "Massmodz Free Internet- Get free untraceable Internet." He also appeared in instructional videos he posted on YouTube, including videos entitled Massmodz.com How to Get Free Internet Free Cable Internet Comcast or any Cable ISP – 100% works"; "Massmodz.com How to bypass Comcast registration page with premod cable modem SB5100, SB 5101"; "Massmodz.com Cable Modem Hack Cable Modem Mod"; and "Massmodz.com How to get back online Comcast new secure area with cable modem premod, Comcast ready."

Related Articles:
>Site Hacking Facebook Accounts For $100 A Pop

>PartyGaming Founder To Give U.S. $300 Million