Facebook's Open Graph is about to get significantly bigger. I spoke with Demand Media VP, Marketing Jason Jaynes about the company's new integration with it, and it's a biggie, but not necessarily in the way you might think.
When you think of Demand Media, you probably think about Demand Studios, the company's content production arm, and the sites it powers – sites like Cracked, eHow, LiveStrong, etc. These sites have enormous reach in themselves, but Demand's new announcement has much bigger implications.
The announcement is of Facebook Open Graph integration with Demand Media's Pluck service. Pluck is a social media platform service that is used by a slew of major brands around the world in varying capacities – things like powering reader comments and interaction with content. It doesn't matter whether or not you're familiar with Pluck itself, because there's no way you're not familiar with some of the brands that utilize it. Take a look: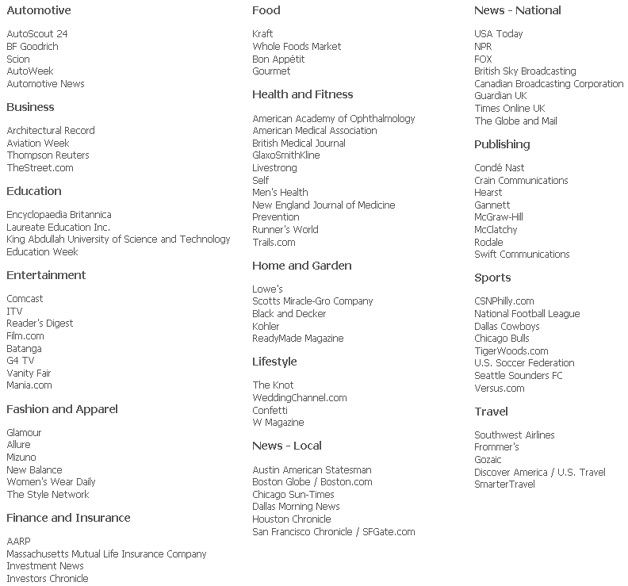 That's a pretty good chunk of the web, no? Add to that, the fact that consumers are increasingly engaging with brands online. Granted, just because the brands listed use Pluck, doesn't mean they will have to use certain functions related to the Facebook integration, but one can only assume that most of them will use them in some capacity, given the traffic and engagement benefits.
Pluck already claims to generate 3+ billion social interactions a month. How do you think enhanced Facebook integration will affect that?
Of course Demand Media's own content properties utilize Pluck, and Jaynes tells me that the company views Facebook's Open Graph as just "as important" as search to the discoverability of Demand Media content.

Pluck is extending its Pluck 4 Comments and Pluck 4 Persona applications. "Our comment application recognizes the user is logged into facebook, and that the user's not logged into USAToday," Jaynes explains giving a hypothetical example (USAToday may or may not use the feature). We don't know who you are, but we can give you the ability to comment on the article." Users will go through a quick connection with Pluck's Facebook app, and the comment will be posted on the site as well as on their Facebook Wall.
Pluck is also giving users the ability to automatically create a Pluck persona powered by their Facebook data. The goal, Jaynes says is to "lower the barrier of entry" for the user to participate socially on the local site. He gives more details about Pluck's plan to integrate with Facebook here.