It looks like Facebook will soon begin trying harder to bend the ears of our nation's leaders. Listings for a public policy manager and public policy associate have both been posted on the social network's "Open Positions" page, and Facebook's decided that these people will work in Washington, D.C.
This isn't a simple matter of having a couple of folks sit around, answering questions and maybe defending the company when necessary. Facebook wants the new hires to be quite active.
The public policy manager will be expected to "monitor legislative and regulatory matters at the state governmental level, participate in federal policy discussions, and lead company's interactions with consumer organizations," according to the official listing. He (or she) is supposed to "[b]uild coalitions to advance policy goals of Facebook," too.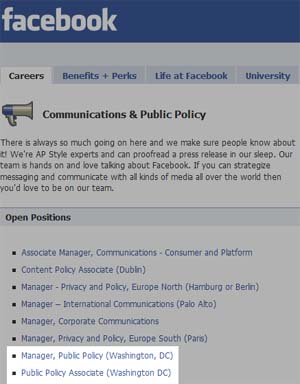 As for the associate, this individual is meant to attend Congressional Committees, deal with nonprofits, and help with Facebook's "election and voter action activities," whatever those may be. Plus have a sense of humor that his or her boss isn't required to possess.
Anyway, Cecilia Kang, who deserves a hat tip, noted, "Those jobs would bring Facebook's staff in Washington to five. It recently hired journalist Andrew Noyes for public policy communications and Tim Sparapani from the ACLU, who is now director of public policy. Adam Conner began the office and deals with lobbying and policy issues including privacy."