Facebook is on track to overtake Yahoo in display ad revenue this year, according to a new estimate from eMarketer.
Facebook's display ad revenues will reach $2.19 billion this year, accounting for 21.6 percent of all U.S. display ad dollars. Yahoo's market share will reach 16.4 percent, while Google will account for 12.6 percent of display ad spending.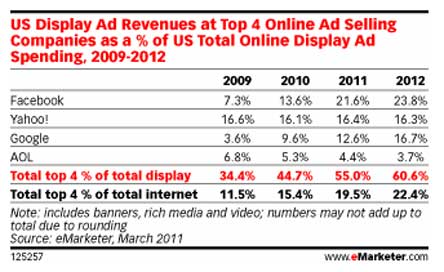 "Yahoo!'s US display ad revenues will increase by double digits each year from 2010 through 2012. Despite that, not only will Facebook's display revenues surpass Yahoo!'s this year, Google's revenues will exceed Yahoo!'s next year," said David Hallerman, principal analyst at eMarketer.
"What that leapfrogging trend confirms is the strong demand among brand marketers for online display ad placements."
In search, Google will maintain its position as the top site with an increase in market of nearly 4 percentage points to 75.2 percent. eMarketer predicts Microsoft search revenues will be up 16.4 percent this year, while Yahoo revenue will drop to $1.1 billion in 2011 from $1.28 billion in 2010.
"Even as some observers expect Google's search revenues to fall due to competition from Bing, the reported revenue reality shows that after a relatively 'slow' Q1 2010, net US ad revenues at Google grew by 27% or more each of the following three quarters," said Hallerman.
"It will be hard for Bing to stop the Google juggernaut, and, in fact, Bing's search gains are basically accompanied by Yahoo!'s search losses."