Facebook's employees in Washington, D.C. are going to be in a very uncomfortable position if whatever privacy changes the social network implements tomorrow aren't well-received. Facebook has invited members of the House and Senate to attend a special, privacy-centric briefing later this week.
As the screenshot of an event page below shows, this will be a rather exclusive affair, with only House and Senate staff allowed. It could turn into something of an interrogation, too, since there will be a question and answer session and Senators Begich, Bennet, Franken, and Schumer have already expressed a few concerns.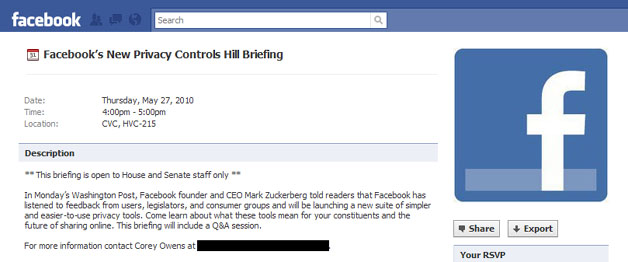 Still, the simple fact that Facebook's holding a meeting will demonstrate that the social network is trying to take users' opinions into account, and the meeting will give Facebook an opportunity to put its own spin on the situation (whatever that may be), as well.
We'll be sure to watch for new developments afterward. Whether the whole mess goes away, the critical politicians consider the matter "under discussion," or everything escalates should be interesting to see.
Anyway, a big hat tip goes to Jolie O'Dell, and yes, to be on the safe/ironic side of things, we obscured the email address and phone number of Corey Owens, a public policy associate at Facebook, even though the Hill Briefing event page is currently public.